Ibuki Mioda Cosplay Costumes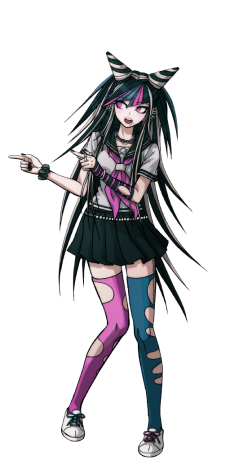 Let's take a look at what it takes to cosplay as Ibuki Mioda, one of the most popular anime characters in Danganronpa 2
Last update was on: June 8, 2023 12:27 am
Ibuki Mioda Costumes of 2023
As Ibuki played her way into our hearts with her punk-rock, energetic, and quirky personality, it'd make sense to want to portray this character and have her in your sights for your next potential cosplay!
Who is Ibuki Mioda?
Ibuki Mioda is a student in Hope's Peak Academy's Class 77-B and a participant in Danganronpa 2: Goodbye Despair's Killing School Trip. Ultimate Musician (Super High School Level Light Music Club Member) is her title. Ibuki's aggressive and unusual demeanor and appearance are initially surprising. She is one of the most cheery students. She is vivacious and enjoys conversing, however she is prone to go off on weird, unrelated tangents. She forgets things often, so she attempts to keep track of them through memos.
Ibuki is said to like cute girls in the official artbook, and she is frequently seen admiring the other girls during the game. She has the ability to be flirtatious with both males and girls, however she frequently looks to be joking. During a more serious talk in Island Mode, she says, "There are more important things in this world than a transient physical relationship" – she looks to be uninterested in having a lover. Instead, it appears that she would like to have a strong platonic relationship with someone she considers her soulmate ("band member", as she puts it). She also hints that she has experienced despair in the company of others, but that discovering her "destined one" would ensure that she would never experience despair again.
Despite her eccentricities, Ibuki can be a stunningly insightful and contemplative individual, as she demonstrates in her most recent Free Time Events when she gives Hajime Hinata advice on how to be himself. Though she can look unsympathetic at times, she is actually a very compassionate friend who devotes her whole Free Time Events to assisting Hajime with his memories and sense of self. She appears to have a deep regard for individuality, which contrasts with her Gullible Disease, which renders her unable to act on her own volition and mutes her eccentricities.
How to Look Like Ibuki Mioda
Ibuki is a young woman in her early twenties, roughly 22 years old at the time of this writing. In the Neo World Program, her virtual avatar portrayed her as a 17-year-old.
She has light skin and pink eyes. Her hair is long and multicolored, with black, pink, blue, and white strands intertwined into two oni horns on the top of her head.
Ibuki dresses in a way that is considerably different from what one would expect a member of the Light Music Club to wear. She's dressed in a sailor outfit with tattered thigh highs and a black pleated skirt (the right one is pink and the left one is blue). Six needle earrings and an earlobe gauge adorn both of her ears. She also wears black nail paint and has three piercings under her left lip. She is dressed in a necklace, a black scrunchy with a stitch-like pattern on her right wrist, and a black and pink glove-like sleeve on her left upper arm, with a silver bracelet and three silver rings. Her shoes are white, with blue (right) and pink (left) shoelaces.

She wore a white button-up dress shirt with a pink tie with light pink-colored x's, a black pleated skirt with a thin belt, a blue scrunchy on her right wrist, a yellow spiked bracelet on her left, two black rings on her left hand, and black thigh highs with white skeletal markings when she was enrolled in Hope's Peak Academy. She matched her necklace and shoes as well.
Ibuki has a scar tattoo with sutures on her left thigh in Danganronpa 2. The identical tattoo appears on her right thigh in Danganronpa 3. Ibuki has the same hair as the other members of Ultimate Despair, but her garments are darker. She has a spiked collar and other piercings.
Also take note of her personality when trying to look like her; be shocking, lively and upbeat. Ibuki appears to have a speech tic when she is upset: she repeats herself. When she is panicking, she screams. She appears to love worrying in situations when there is no real danger, such as when she is watching horror movies.
Also in the original Japanese release, Ibuki frequently refers to herself in the third person and addresses everyone by their first name with the honorific "-chan." In the English version, Ibuki also uses the third person, albeit not as frequently.
Ibuki Mioda cosplay buying guide
Let's start with the hair; Ibuki's hair is eccentric, to say the least so it is recommended that you buy a wig for this one rather than actually trying to style your hair. Sporting the punk style Ibuki possesses a variety of piercings on her ears and face… luckily for those afraid of the needle or those who prefer not to get one, fake piercings were invented! She also has pink eyes with spiky eyeliner and a light pink blush. Though we can't say for sure if she has lipstick on it's recommended to put on a darker tint on your lips to complete the "punk" look.
Find The Best Ibuki Mioda Costumes of 2023
Her outfit is by far the easiest one on the list, you can either opt in to buy the whole outfit from the internet or make it yourself! As I'm sure the majority of cosplayers already have japanese schoolgirl outfits in their wardrobe. You just need a pink scarf, a pink and black striped sleeve, and pink and blue stockings to put holes through.
Ibuki has her nails painted black with three silver rings on her thumb, middle, and index fingers on her left hand. She also has a silver bracelet (on top of her striped sleeve) and a spiky necklace. For the shoes you need low cut white sneakers with pink shoelaces and a blue one as well.
And that wraps up the Ibuki Mioda look!