Black Cat Cosplay Costumes
Marvel / DC

Find the appropriate bits and bobs below to complete your Black Cat cosplay!
Last update was on: September 23, 2023 4:13 pm
Black Cat Cosplay Costumes of 2023
Discover your inner Black Cat
So, you want to cosplay as Spider-Man's on again, off again romance who never settles for second best. A daughter of notorious cat burglar, Walter Hardy, Black Cat was born and bred into a life of thievery and eventually adopted her father's profession. If you're planning to create a solid Black Cat Cosplay, then this guide is perfect for you.
Who is Black Cat?
Black Cat's real name is Felicia Hardy, and she did not take on her persona until after several successful heists. Before her father's arrest, he instilled in her a concept that she will take heart for a long time: never settle for second-best. It was this thought that pushed her to undergo intense training and take revenge on a guy who assaulted her in her freshman year. Unfortunately for her, the guy died in a drunk driving accident, stripping her of the chance to take out his life.
Unsure of what to do with her new skills, she decided to follow her father's footsteps and become a cat burglar herself. Delighted with her successful career in thievery, she decided to adopt a new identity, Black Cat, and free her imprisoned father. It was the same night when she had a run-in with Spider-Man, which began a long string of intermittent affairs and becoming an occasional friend, foe, and even lover to him.
How to look like Black Cat?
Black Cat has platinum blonde hair, often portrayed as long and wavy. Ever since she was introduced in the Marvel Universe, she rarely ties her hair and simply lets it down. Modern adaptations in games and the animated series started to experiment with her look, from a very short bob to a high ponytail hairstyle.
She has green eyes and uses a thin-framed mask as part of her Black Cat identity. A great way to achieve her feline looks is to wear a pair of contact lenses, add winged eyeliner (a cat eyeliner, if you will) to your upper eyelids and a hint of dark eyeshadow.

Black Cat Cosplay Buying Guide
We have here the best Black Cat Cosplay based on customer reviews. We know that costume sizes can be an important issue, so we prepared accurate sizing charts and information. Simply choose which size is perfect for you, and you won't need to worry about attending a convention with a shoddy costume.
Find The Best Black Cat Costume of 2023
Black Cat Costume
Her costume had been under several changes, but she has been consistently wearing an entirely black outfit. The well-known version of her suit has white fur on the neckline with a zip up enclosure on the front, often unzipped right at the bottom of her chest. Silver locks of hair are attached to her forearms and calves.
Her footwear is attached to her bodysuit, but in some versions, she is wearing white boots with frills. She also wears a black choker with a silver pendant, and has her claws attached to her hands.
Her mask is also subject to frequent changes, from the famous thin framed version to a masquerade-looking mask which also incorporate blak cat ears attached to her head. These types of masks are very easy to make at home using eva foam and various other materials. Check out our guide on how to make a cosplay mask.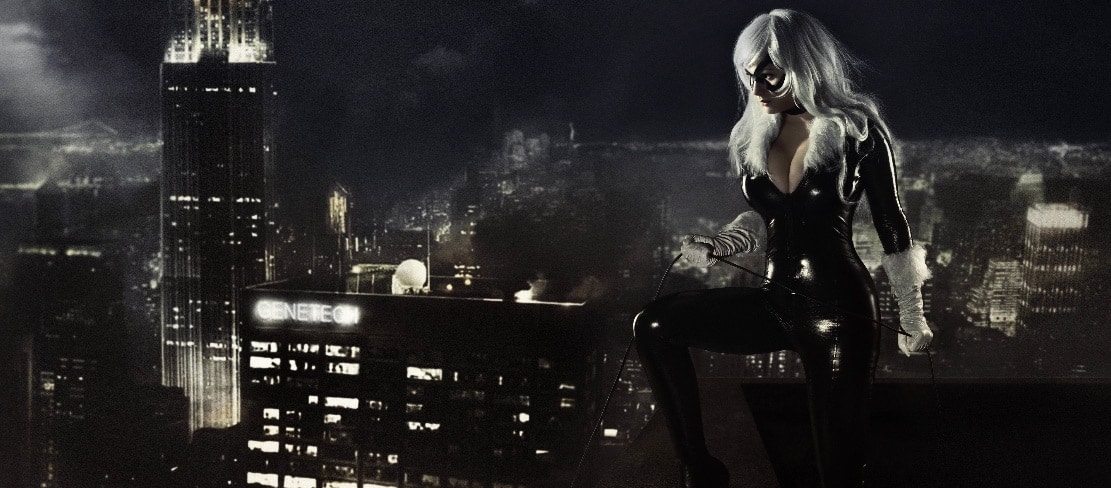 If you love the allure and agility of Black Cat, don't miss out on our Spider-Man and Spider-Gwen cosplays, where you'll find another pair of agile and intriguing characters.