Handsome Jack Cosplay Costumes
Video Games

Check out the most popular Handsome Jack costumes below, comfy and durable even at the craziest of conventions!
Last update was on: September 24, 2023 12:10 am
Handsome Jack Cosplay Costumes of 2023
Discover your inner Handsome Jack
Handsome Jack is the narcissistic and megalomaniac foe of Borderlands 2. This madman will stop at nothing to get what he wants, even at the expense of his own kin. If you're looking to create an awesome Handsome Jack Cosplay, then this is the perfect guide for you!
Who is Handsome Jack?
A product of a messed up childhood, Handsome Jack's traumatic experiences shaped him into the egocentric President of the Hyperion Corporation.
When his character was introduced, he wanted to eliminate anyone trying to look for the Vault. His motive was further explained in the Pre-Sequel, where the main characters, the Vault Hunters, accompany him into opening the vault to release The Destroyer. The main characters, initially unaware that Jack was using them all this time, eventually betrayed him to prevent him from having too much power.
The Pre-Sequel Vault Hunters failed to stop him from taking over Pandora, going so far as taking advantage of his own daughter's powers. A new group of Vault Hunters in the second game are tasked to eliminate Jack once and for all and restore peace to Pandora.
How to look like Handsome Jack?
Handsome Jack has two eye colors: the left is green, and the right is blue. The only way to achieve two eye colours is to wear contact lenses. His medium length brown hair is swept back, exposing his widow's peak. He also has a soul patch and prominent sideburns.
His face has a huge scar after being punched by Lilith. To hide this, a mask was grafted in his face. Also, he gains a streak of white hair and loses his soul patch. Borderlands' distinct art style makes the characters look like they came straight out of a comic book. While this is not really a requirement, imitating the style using makeup elevates the look and makes you look like a walking Borderlands character. Here's a Handsome Jack makeup tutorial if you'd like to give it a go!

Handsome Jack Cosplay Buying Guide
We have here the top Handsome Jack Cosplay and selected the best ones based on customer reviews. Size is a huge priority in cosplay, that's why we prepared accurate sizing charts and information so you can pick a Handsome Jack costume with the perfect fit.
Find The Best Handsome Jack Cosplay Tips of 2023
Borderlands: The Pre-Sequel Costume
Handsome Jack wears a brown collared jacket with a yellow line that connects the body to the sleeves, and the letter H for Hyperion written at the back. He also wears a yellow undershirt with a Hyperion logo on his chest and a watch on his left wrist. He wears dark-colored pants with a yellow outline at the side of his legs, a brown belt with a silver buckle. A brown gun holster is attached to his right thigh. He also wears a pair of brown boots with three buckles and black toe boxes, while the heels and the soles are yellow in color.
Borderlands 2 Costume
Handsome Jack wears a grey suit, a white dress shirt, a yellow undershirt and a brown vest. All the sleeves of his clothing are rolled up to his elbow. He still wears the same brown belt, thigh gun holster, and pants, although the yellow outline was removed. He also wears a pair of brown skate shoes with a yellow accent and white soles.
His mask is already grafted at this point, so don't forget the metal attachments on his face. His mask is also lighter than his skin tone, so keep that in mind when applying makeup.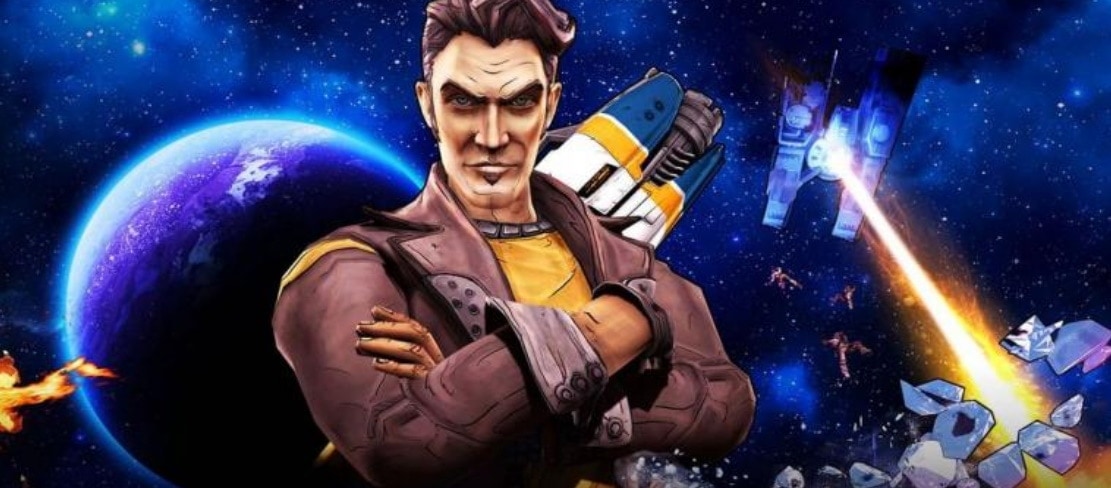 If you enjoy embodying the charismatic villainy of Handsome Jack, you'll likely find delight in donning the attires of other charismatic figures, such as Mad Moxxi from the same universe or even delve into the unpredictable worlds of Fortnite and Destiny 2.