Princess Daphne Cosplay Costumes
Video Games

Stand out amongst the crowd with our best Princess Daphne costume and accessories!
Last update was on: September 23, 2023 4:12 pm
Princess Daphne Cosplay Costumes of 2023
Discover your inner Princess Daphne
Who is Princess Daphne?
Princess Daphne is the deuteragonist of the Dragon's Lair series and the princess of the kingdom of Ethelred. Her abduction is the reason why the protagonist Dirk the Daring, the heroic knight of Ethelred, goes out of his way to brave many foes in order to rescue her.
Daphne was taken by Singe, a large green dragon whose lair the game is named after. He holds her hostage in exchange for Ethelred's surrender of his kingdom before sunset. Dirk fights his way through and reaches where she is held captive. He defeats Singe, rescues Princess Daphne, and saves the kingdom of Ethelred.
Fast forward a decade to the second game, Dirk and Princess Daphne were married and had many children. She then gets abducted again, this time by Mordroc, an evil wizard who wishes to enslave her with the Death Ring. She gets transformed by the Ring at the end of the game into a monster, but Dirk saves his wife by removing it and kissing her to bring her back to normal.
How to Look Like Princess Daphne
Princess Daphne is a beautiful and voluptuous woman with long golden hair that reaches down past her waist and down her thighs. Her outfit in the games tend to show much of her body, while she wears more conservative clothing in the TV series. Her appeal is cited as one of the reasons for the success of the franchise, especially the first game that was released in 1983.
When Dragon's Lair came out in arcades, no one had ever seen a game like it. The game had amazing hand-drawn animation and storytelling unlike any other game before it. If you're a real retro gaming fan, you may know who Princess Daphne is and you might be interested in The Making Of Dragon's Lair.

Princess Daphne Cosplay Buying Guide
Here listed below are the top Princess Daphne cosplay you can find online with the best price and quality, according to customer reviews. If you're worried about getting a costume that fits you, these costumes have ample information and accurate sizing charts for reference.
Find The Best Princess Daphne Cosplay of 2023
Game Costumes
Princess Daphne wears a loose translucent purple gown over a black one-piece bathing suit, along with black high heels and a necklace. She also tends to wear circular purple earrings and a purple headband with a little crown, denoting her status as a princess of the realm.
In the final level of the second game, she wears a similar outfit, but in blue instead of dark purple. This version has her wearing just a purple headband without a crown and her earrings are much smaller, likely changes she made when she became a mother.
TV Costumes
She wears more clothing in the TV series, with a pink long dress with a purple long collar and a low V-neck that shows her cleavage. Along with that, Princess Daphne wears a wider crown, gold braces on her biceps.
In exchange for a more subdued appearance, this version of Princess Daphne is more physically capable, showing great enough agility and strength to defend herself against threats.
Not sure if you want to cosplay Princess Daphne? Check out the best cosplay ideas of 2021 or perhaps you'd like to create an OC character (own creation).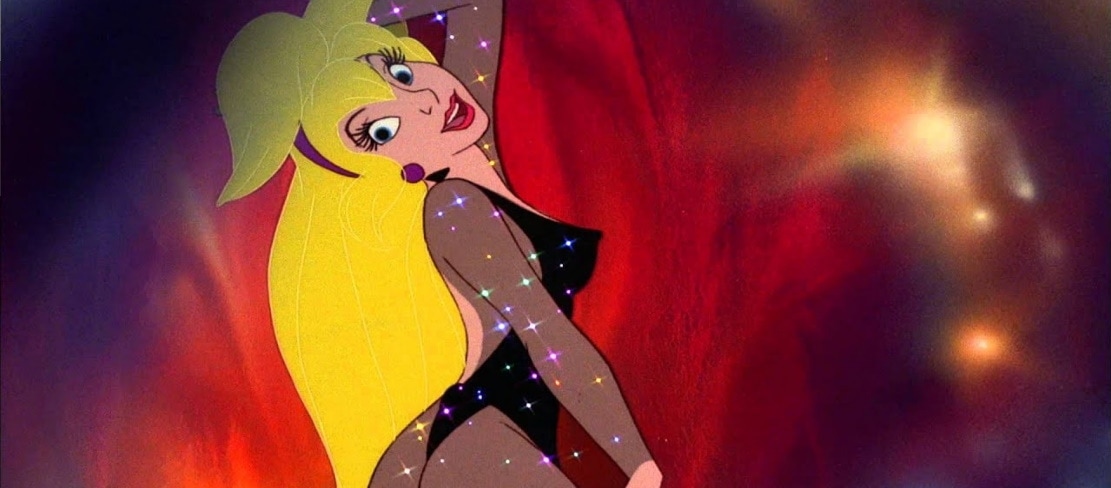 If you love the timeless beauty and whimsical charm of Princess Daphne from Dragon's Lair, you may also appreciate these other regal and fantastical ladies. Don't miss out on our cosplay guides for Zelda, the princess of Hyrule, and Mai Shiranui, the iconic kunoichi from King of Fighters.