Let's take a look at what it takes to cosplay as Xiao, also known as Alatus!
Last update was on: June 7, 2023 10:15 am
Xiao Cosplay Costumes of 2023
Xiao, also known as Alatus, is an adeptus who was assigned by Morax to tame the demonic spirits that tormented Liyue. He is the only known surviving member of the five finest Yakshas sent by Morax to pacify the demonic spirits that plagued Liyue. Playing the character in game or seeing them for the first time, it's only natural to want to cosplay as Xiao with his charming, cool, calm, and collected aura.
Who is Xiao?
Xiao is a yaksha with a high level of adepti seniority, having fought in the Archon War. He has a quiet manner and has no desire to interact with humans. He doesn't seek compassion for his history, and he believes it would be offensive to his fellow Yakshas.
He owes Morax a debt of gratitude for saving him, and he has pledged to defend Liyue as payment. Those who speak ill of the Geo Archon, no matter who they are, are not taken lightly by him. Despite his persistent karmic debt, Xiao is remarkably resistant to its enticing corruption, despite the fact that his fellow yaksha have either lost or died as a result of it. Due to this debt, he chooses to remain alone and only takes part in mortal concerns when absolutely necessary.
Xiao is a two-thousand-year-old lighted beast. He was enslaved as a child by an ancient god who discovered his vulnerability and forced him to commit horrible and violent crimes on the god's behalf, including devouring his victims' dreams.  During the Archon War, Morax put an end to the god's bloodlust; Xiao was set free, for his own safety, Morax gave him the name "Xiao" . As a result, Xiao developed a strong devotion to the Geo God, which he maintains to this day.
Many human traditions and social standards are foreign to Xiao, who finds them weird, silly, or meaningless. Others may perceive him as distant and scary. Despite his worries about mortal life, he becomes significantly more calm after meeting the player, wanting to understand customs and visit Liyue Harbor with them for their sake. When acting as a mentor figure for Ganyu, he is revealed to be a harsh but excellent teacher, but he considers that as a soul-slaughtering yaksha, he is not an appropriate instructor for her.
Unlike the majority of the adepti, Xiao dislikes most human foods, with the exception of Almond Tofu and subsequently Grilled Tiger Fish, the former recalling him of the visions he used to have and the latter honoring Pervases' memory.
How to Look Like Xiao
Xiao has black medium-length hair with teal undertones and cyan highlights that is brushed back and framed by two longer locks. Like Zhongli and Cloud Retainer, he has pale skin, golden irises with cat-slit pupils, and red cosmetics on his eyes. A purple diamond tattoo is on Xiao's forehead, while a green tattoo is on his right arm.
Xiao is dressed in a sleeveless white shirt with cloud patterns. It has a tall black collar with golden highlights that extends past his shoulder on the left side. He's dressed in baggy dark purple slacks with dark purple boots on top. Xiao wears black and dark turquoise gloves and a necklace with gold decals. Xiao wears a white and gold sleeve with a red lining around his left arm. He wears an Anemo vision on his left glove and wears his Yaksha mask on the back of his right hip most of the time.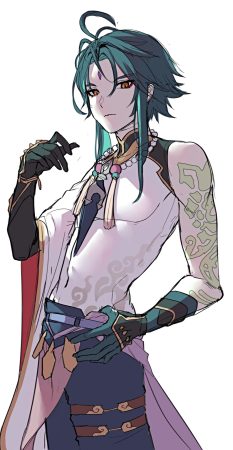 The Top Xiao Costumes of 2023
Xiao is a few thousand years old but luckily for cosplayers Xiao looks young. When cosplaying as Xiao remember to move sharp, and elegantly in a stylish manner with cold eyes and a sharp expression that would intimidate whosoever looks you in the eye.
Xiao's signature weapon – the spear
Now let's talk about the beauty that is his spear. As all things beautiful it's gonna cost you more to own, be prepared to break your piggy bank for this one. If you plan on making it yourself you could get away with just paint work on some of the details of the spear but having those etched golden parts would go a long way to wowing everyone with the prop.
Xiao Cosplay Buying Guide
To get the look just right, you need to get the hair right. There are a few selection of wigs available online fortunately just remember to brush the left lock behind your left ear. Don't forget the purple diamond tattoo on the forehead, and the right arm tattoo! The outfit itself is also available online just remember that if you wanna move comfortably in the costume don't cheap out!