Last update was on: December 1, 2020 9:03 am
Mercy Cosplay Costumes of 2021
Discover your inner Mercy
Who is Mercy?
Before she was a member of Overwatch and became known for her callsign "Mercy", she was Dr. Angela Ziegler. Growing up during the Omnic Crisis, she witnessed her own parents volunteering to save the victims of the war. Unfortunately, they died during an airstrike. Instead of accepting their deaths with anger, this motivated her to be an advocate for peace and help the others affected by the conflict.
She became the head of surgery at a Swiss hospital, and her prowess in the medical field gained the attention of Overwatch. Initially hesitant to join the organization due to their militaristic approach in addressing the crisis, she finally agreed after realizing that she will be able to save more lives using their platform. The Valkyrie swift-response suit was developed for her to use during her missions with the organization.
Despite Overwatch's dissolution, she carried on with her calling to save the innocents while wearing her Valkyrie suit, a guardian angel to anyone who needs her help.
How to look like Mercy?
Mercy has short blonde hair tied up in a high ponytail, and her long fringe swept to the right. There are several Mercy wigs available but if you already have blonde hair, then you can instantly master this hairstyle with a few hair ties.  She has thin, slightly arched eyebrows, blue eyes and thick eyelashes. To achieve her eye makeup, simply apply a faint smokey eyeshadow and create a winged eyeliner on your upper eyelids. The shape of eyebrows can also be manipulated with the help of Elmer's glue, read our tutorial on how to cover your eyebrows for tips and tricks.
In most of her skins, she wears a headpiece that looks similar to a halo. The color changes depending on her skin, but her golden halo is what gives her a more angelic and heavenly appeal.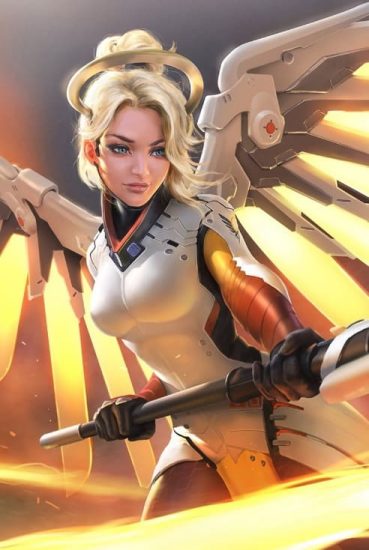 Heroes never die as long as Mercy, the angel of the battlefield, is here. Support characters like her may not be players' first choice as a hero, but Mercy's presence is a great advantage to win a match. Keep on reading and we'll help you create an awesome Mercy cosplay!
Mercy Cosplay Buying Guide
We prepared the top Mercy Cosplay, and chose the best ones according to customer reviews. You don't have to worry about getting the wrong size. We have accurate sizing charts and information for you to choose from so you can have the perfect Mercy costume with the perfect fit!
Find The Top 5 Best Mercy Costumes of 2021
Classic Skin
Mercy's classic Valkyrie suit has a white breastplate, with a black turtleneck undershirt and yellow sleeve extenders subtly turning to a reddish hue, and black gloves. She also wears brown tights, silver heeled boots, and two long strips of cloth covering her legs with the same color pattern as her sleeve extenders. 
She also has a symbol of a caduceus on her back. Her white wings are mechanical, but when she uses her Valkyrie ability, her wings extend with a bright yellowish glow, resembling the look of feathers when wings are fully spread. We have found a full tutorial on building Mercy's costume if you'd like to create your own from scratch!
Witch Skin
Her Witch Skin is a perfect cosplay during the Halloween season. She wears a black witch hat with a leather belt and buckle, a torn red cape buttoned in her neck, and a brown sleeved corset. A leather tome is tied to her waist, and torn strips of brown cloth with a yellow design resembling fire covers her legs. Her mechanical wings are now black and when extended, her "feathers" glow with an orange hue. She also wears brown thigh highs and brown buckled shoes.
She has a bunch of other amazing skins that you can choose from. View the top 10 Mercy skins and find your perfect cosplay :3