Widowmaker Cosplay Costumes
Video Games

Find the appropriate bits and bobs below to complete your Widowmaker cosplay!
Last update was on: September 23, 2023 8:11 pm
Widowmaker Cosplay Costumes of 2023
Discover your inner Widowmaker
Widowmaker's cold exterior is a warning to all enemies: she always goes for the kill. This deadly marksman possesses precise sharpshooting skills, making her a threat in the arena. If you're planning to recreate an awesome Widowmaker cosplay, then this guide is perfect for you!
Who is Widowmaker?
Formerly known as Amélie Lacroix, Widowmaker is a Talon operative who excels in assassinating targets while avoiding detection. She stands in stark contrast to heroes like Mercy, who seeks to heal and save lives, or Tracer, whose time-bending abilities are used for good.
Widowmaker didn't start her career immediately under Talon though. She was Gérard Lacroix's wife, a man who has been leading operations against the Talon terrorist organization. In her former life, she might have been considered a counterpart to Mei, who uses her scientific genius to battle ecological threats, not humans. Talon tried eliminating Gerard several times but always ended up failing. As a form of retaliation against him, they went after Amélie.
After undergoing an intensive program of neural reconditioning, she became Talon's sleeper agent, akin to how D.Va serves as a frontline warrior for her own nation. Overwatch agents eventually found her, seemingly unharmed, and entirely unaware of her new programming. She was brought back into the fold, a decision that had devastating consequences. After two weeks, she killed her husband in his sleep, contrasting strongly with heroes like Mercy who would give everything to save a life.
She returned to Talon after her mission and became their deadliest asset. Physiological alteration turned her skin blue and made her incapable of feeling human emotions, making her even more enigmatic than the already mysterious sniper, Widowmaker. In this sense, she stands as a dark mirror to heroes like Tracer and D.Va, who fight for justice and freedom, embodying instead a chilling amorality.
How to look like Widowmaker?
Her blue skin is what makes her easily distinguishable out of all Overwatch heroes. Blue face and body paint will suffice, but you can use makeup to add more dimension to your skin, especially your face, to avoid looking too flat. Make sure to look for paints that are non-toxic and safe to apply on the skin.
Her eyes are bright yellow, so invest in good quality eye contacts in this color. Apply a winged eyeliner and a bit of black eyeshadow to achieve her smokey eye effect.

Widowmaker Cosplay Buying Guide
We've reviewed the top Widowmaker cosplay and chose the best ones based on customer reviews. If you're worried about getting a costume that doesn't fit, we've got you covered! We prepared accurate information and sizing charts for your reference, so you can get the perfect Widowmaker costume for you.
Find The Top 5 Best Widowmaker Costumes of 2023
Classic Skin
Widowmaker wears an open chested short sleeved bodysuit. It is mainly metallic violet, with a lilac neckline that stretches all the way to her upper abdomen, and plum-colored sleeves and tights. She wears a gray shoulder guard and a wrist-mounted grappling hook on the left, and a black glove on the right. She also has a leg mag pouch hoisted on her right thigh, and wears a pair of gray boots.
She also has long, dark blue hair tied up in a ponytail. Her forehead is covered by a gray visor with infrared vision. This headgear may look tricky to make but it can be achieved by using foam clay or eva foam and paint.
Talon
Blizzard released her Talon skin as a tribute to her adherence with the criminal organization.
In this skin, Widowmaker wears a cropped short sleeved white top and tight pants with leather straps around her legs. Her wrist-mounted grappling hook is still attached to her left arm, but her leg mag pouch is now attached to her left thigh. She also wears similar looking gray boots. She still ties her hair up in a ponytail, but the length is considerably shorter than her classic skin.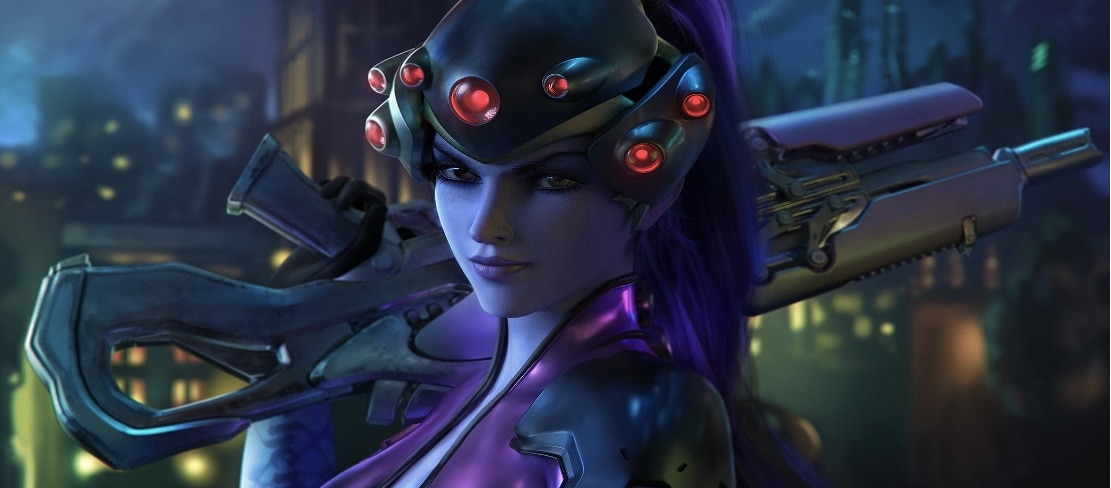 Fascinated by the morally complex operatives of Overwatch? Dive into the captivating world of Tracer, the medical brilliance of Mercy, or the environmental crusades of Mei. If you're looking for another formidable combatant, check out D.Va's high-octane action!