Let's take a look at what it takes to cosplay as Nami.
Last update was on: December 5, 2023 10:12 am
Nami Cosplay Costumes of 2023
The navigator of the Straw Hat Pirates is beautiful, smart, and dependable. Nami is one of Luffy's loyal crewmates aboard the Going Merry, and later the Thousand Sunny, as one of the Straw Hat Pirates. Without her, the Straw Hats would find themselves lost in the Grand Line, making her an indispensable crewmate. Let's take a look at what it takes to cosplay as Nami.
Who is Nami?
"Cat Burglar" Nami was the third one to join Monkey D. Luffy as a member of the Straw Hat Pirates. She was formerly a member of the Arlong Pirates, having been made to work for Arlong to pay off a debt her village owes him. She had robbed the Straw Hats at first to make that money, but she was then double-crossed by Arlong and she had Luffy for help.
Once they defeated the Arlong Pirates and destroyed Arlong Park, she joined them for real and became their navigator. Her dream is to make a complete map of the entire world. As of this writing, she has a bounty of 66,000,000 Beli.
How to Look Like Nami
Nami's most distinct physical feature is her orange hair, big brown eyes, and slender figure. She is shown to be one of the most attractive women in the series. Her hair reached just above her shoulders before the timeskip and she grew it to reach almost all the way down her back after the timeskip.
She also had a blue tattoo (black in the manga) on her left shoulder of the symbol of the Arlong Pirates. It was then removed by Dr. Nako by her request and later replaced by a black one of a mikan orange and a pinwheel, as homage to her adoptive family Bell-mère, Nojiko, and Genzo.
Her second tattoo was placed there to cover the scar she inflicted on herself during the Arlong Park arc. She was double-crossed by Arlong and put in a difficult situation. In a fit of self-loathing rage, she stabbed her Arlong Pirates tattoo repeatedly in an attempt to destroy it until Luffy stopped her.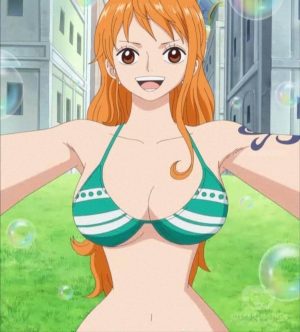 Nami Cosplay Variations
The Nami cosplay can be quite complicated as she has had a lot of different outfits throughout the series. When it comes to picking a Nami costume, you may want to choose the ones she is seen in the most.
Pre-Timeskip Outfit
During this time, she usually wore a short-sleeved t-shirt, short skirt or shorts, and high-heeled sandals. She has also worn sleeveless tops, like during the Arabasta, Jaya, and Skypiea arcs. A lot of those shirts tend to have four-letter words like "Gold", "EVIL", "MACE", and so on.
Perhaps one of her most recognizable outfits is a white-and-blue striped t-shirt, yellow short skirt with two white circles on her left side, and boots. There's also the sleeveless striped top with teal straps and collar, the same yellow short skirt, and high-heeled sandals.
She also wears a gold bracelet given to her by her adoptive sister Nojiko, along with a Log Pose, the compass that allows her to navigate through the Grand Line, where normal compasses don't work due to magnetic waves coming from each island along that area.
Nami also tends to carry a staff, which is her main weapon whenever she's forced to fight, even though she tends to stay away from the fighting alongside Usopp and Chopper.
Post-Timeskip Outfits
Nami goes through even more outfits after the timeskip, but perhaps the most recognizable one is her first one, where she wears a teal-and-white striped bikini top, blue skinny jeans, and orange high-heeled sandals.
Find The
Top Nami Costumes of 2023
Another notable outfit is the one she wears during the Whole Cake Island arc, wherein she wears a white long-sleeved sweater dress, belt with a holster and a buckle with the Beli symbol on it, and her high-heeled sandals. She also wore a red short dress with a halter neck and red high-heeled shoes. She also wore a red and white Bavarian-style dress.
In the Wano Country arc, she wore a blue sleeveless yukata with sakura design, orange obi sash with diamond patterns, blue ribbon around that, ninja sandals with blue straps, and a blue ribbon to tie her hair in a loose ponytail.