Toga Cosplay Costumes
My Hero Academia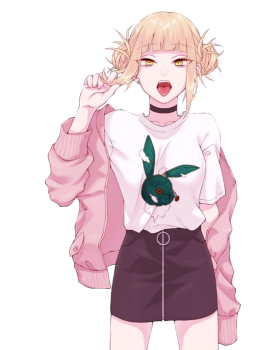 Find the appropriate bits and bobs below to complete your Toga cosplay!
Last update was on: September 23, 2023 6:12 pm
Toga Cosplay Costumes of 2023
Discover your inner TogaOut of all the villains in My Hero Academia, Toga is one of the most unique. She comes off as a regular high school girl, but with a smile that makes people feel uneasy. If you're looking for a good Toga costume, then you've come to the right place.
Who is Toga?
Himiko Toga is basically a shapeshifting vampire, and acts like it too. Her Quirk is Transform, which lets her change her appearance into whoever she wants, even copy their clothes and their voice. However, she has to ingest their blood first beforehand.
She seems sweet, although she can give you the creeps. You can't be sure what she's really thinking at any moment, and you don't even know if she's there. At one moment, you think you're talking to a friend. Next thing you know, it's actually her in disguise.
Beneath her sickly sweet demeanor and sadistic tendencies, Toga is a villain with a reason. She wishes for the world to be a better place for people like her. But don't let her girly attitude fool you into thinking she's not a dangerous enemy. She's one of the major villains in the series.
How to Look Like Toga
Toga has that ash blonde hair styled in two messy buns with wild strands radiating out like the rays of the sun or the tentacles of the Medusa. To master Toga's hairstyle can be a challenge for beginners, however we've put together in depth guide to wig styling to help.
She also has bright yellow eyes with pupils that roughly make her look like a cat. Since Toga is an anime character, a lot of cosplayers apply anime styled eye makeup and wear yellow contact lenses to really bring out her feline features.
There are only two variations to her costume, namely casual and villain. Her casual outfit is just a seifuku uniform, but with an oversized beige cardigan instead of a white shirt. Meanwhile, her villain outfit is just her casual outfit with extra accessories.
Oh and don't Toga's teeth! Her canine's are very pointy, like cat fangs. You can either buy a pair of stick on fangs, or you can mold your own set from polymorph, the latter can be super tricky for first timers, but luckily we have a whole guide on how to make fangs.
Toga Cosplay Buying Guide
Some of the top Toga cosplay are here, according to customer reviews that tout them as the best quality and price you can get. You can get exactly your size with accurate information and sizing charts included with these items.
Find The Top Toga Costumes & Wigs of 2023
Civilian Outfit
This is the foundation of the Toga costume. A Japanese sailor uniform with a kansai collar, but with a puffy beige cardigan instead of a shirt. The right pocket of the cardigan tends to contain cute trinkets on a cellphone strap.
That cardigan is paired with a dark blue short skirt, knee-high black socks, and dark brown dress shoes. It's pretty much what you'd expect a Japanese high school girl would wear.
For a time, after the battle with the Meta Liberation Army, she wore an eyepatch on her right eye as it was damaged. It looks good on her, as if it shows a bit more of the damage that's also within her.
Villain Costume
The accessories and gadgets added to her civilian outfit make for her villain costume. There's the face mask, the collar mask with carnivorous teeth, the utility pouches strapped around her waist and on each of her thighs, and the gadget that lets her extract blood for her Quirk.
The blood extractor is composed of two large green cylinders strapped to the back of her utility belt, which is then attached to three smaller metal cylinders on each side of her collar mask, which are then attached to the giant syringe that she extracts blood with.
She's also seen brandishing a tanto knife. Of course, don't use a real knife for this. A foam, plastic, or rubber replica should suffice. Most of these props can be found online but if you're on a budget or if you simply enjoy making your own costumes/props, then we have the perfect Himiko Toga cosplay tutorial for you.
If Toga's dark allure has you captivated, you may also be intrigued by the chaotic intentions of Shigaraki or the enigmatic presence of Dabi.