Chewbacc Cosplay Costumes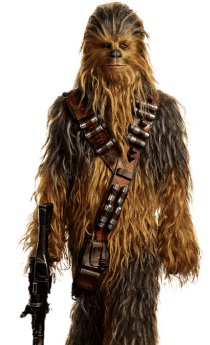 Last update was on: December 1, 2020 9:04 am
Chewbacca Costumes of 2021
Discover your inner Chewbacca
When you hear about the Star Wars franchise, one character that always comes to mind is the legendary Wookie warrior and Han Solo's best friend, Chewbacca. Better known as "Chewie" in the Star Wars universe, this character has helped the franchise earn millions of fans all over the globe by appearing not only in the films but also in the franchise's expanded cinematic universe of video games, books, comics, and television series. Let's take a good look at what you will need for a Chewbacca costume that true fans of the franchise will surely love. 
Who is Chewbacca?
Chewbacca is a well-loved fictional character in the Star Wars franchise. This huge, bipedal, and shaggy creature is an intelligent Wookie that hailed from the planet Kashyyyk. In the series, Chewie is portrayed by Peter Mayhew in the original trilogy and by Joonas Suotamo in the latest installments, Star Wars: The Last Jedi, Solo: A Star Wars Story, and Star Wars: The Rise of Skywalker.
This gentle and fierce giant is a member of the Rebel Alliance core group who helps reinstate freedom to the galaxy by the defeating the evil forces of the Galactic Empire. Aside from being the co-pilot of Solo's spaceship, the Millennium Falcon, he is also known as the loving and trusted friend of Princess Leia and Luke Skywalker.
Cop the look of this lovable and legendary character from the Star Wars franchise with a Chewbacca costume. Don't forget to check our curated featured items. 
How to Look Like Chewbacca?
A legendary Wookie warrior and Han Solo's longtime partner and co-pilot can be a terrific costume idea for your next Star Wars cosplay convention. Carry out exciting and adventure-filled missions against the first order with a complete Chewbacca costume set. The best thing about cosplaying this classic character is that you will only need a few accessories to complete the look. A bandolier, a bowcaster, a utility belt, and a Chewbacca sound mask are all you have to integrate with your Chewbacca costume. For a cheaper alternative, we have found a simple Wookie belt and bag tutorial. To further get the authentic Wookie look, however, you might want to don a blue contact lens to match Peter Mayhew's natural eye color.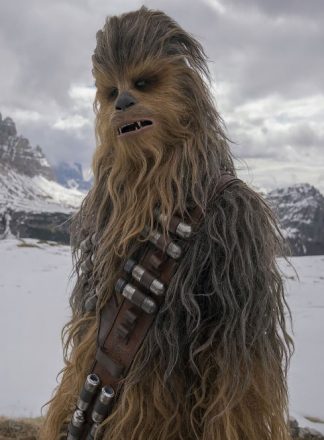 Chewbacca Costume Buying Guide
Chewbacca is one of the easiest Star Wars characters to cosplay because all you need are the right costume pieces. We've reviewed and selected the best costumes to have accurate sizing charts and information just for you. 
Find The
Top 3 Chewbacca Costumes of 2021
Be in your best Chewbacca look for your next cosplay event by transforming yourself into this brave and loyal Wookie with the right Chewbacca costume. You can complete the look as Han Solo's faithful first mate with accessories like a Wookie bowcaster, a Chewbacca sound mask, utility belt, and a Han Solo blaster. If you'd like to make the plastic Han Solo Blaster appear real, check out this great tutorial!