Yennefer Cosplay Costumes
Other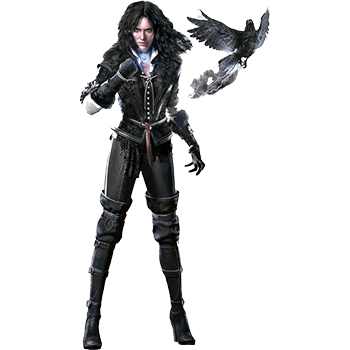 Among the three major female characters in the Witcher series, Yennefer stands out due to her striking all-black look.
Last update was on: September 23, 2023 8:11 pm
Yennefer Cosplay Costumes of 2023
Discover your inner YenneferAmong the three major female characters in the Witcher series, Yennefer stands out due to her striking all-black look. She is an amazing character to cosplay due to her strong and unique look, as well as her strong yet nurturing personality.
Who is Yennefer?
Yennefer of Vengerberg was born on Belleteyn with a congenital hunchback. This instantly made her father hate her, not accepting her as his daughter and causing strain in his relationship with her mother. He would leave them later on, and her mother would then turn her ire on the girl and abuse her as well. But due to her magical potential, she was sent off to the Aretuza school for sorceresses, where she was taught magic.
The school also has a tradition of magically removing physical flaws to maximize the students' potential. Despite challenges and even a suicide attempt, Yennefer would grow up to be a beautiful woman who's tremendously skilled in sorcery. She would later graduate from the school, ply her trade, and meet the witcher Geralt of Rivia later on.
She would become Geralt's true love and a mother figure to his ward Ciri, who she treated as her own daughter. She is also a close friend of Triss Merigold and an informal advisor to King Demavend of Aedirn. She is beautiful, powerful, wise, and compassionate.
How to Look Like Yennefer
Yennefer's most distinct physical feature is her long and wavy black hair, which is also described in the books as "fragrant with lilac and gooseberry perfume, falling in a cascade of curls on her shapely shoulders." Her eyes are described as between violet and blue-gray.
As for her physical stature, she's actually shorter than how she first appears. However, because she exudes such a strong and intimidating presence that she looks taller than she actually is. That is bolstered by a fashion sense that made the most of her features, wearing form-fitting outfits that match the color of her raven black hair and pale complexion.

Yennefer Cosplay Variations
The Yennefer cosplay is all about the black and white. Yennefer herself is so into these colors that she even tried getting Geralt to wear them as well. There are at least two different Yennefer costumes, and it's good to know both of them so you can cosplay Yennefer on different occasions.
Regular Costume
This is the outfit she is best known for, and it makes quite a strong impression. She wears a long-sleeved white tunic underneath a short-sleeved leather jacket and corset, which is fastened with a leather belt. She swears black leather gloves that cover her forearms.
She also wears a black feather epaulette on each shoulder. Around her neck is a medallion necklace. On her lower body, she wears black leather pants and black over-the-knee boots that are set in place with straps.
Find The Top Yennefer Costumes of 2023
Alternative Costume from The Witcher 3: Wild Hunt
This costume draws more from the raven motif, which takes from both her black hair and her role as a sorceress. She's wearing a black strapless shoulder down long-sleeve top with dark green feathers around the shoulders and a loose scarf around her neck.
A dark brown leather corset is secure around her waist, leather gloves in her hands, double split long skirt, black laced stockings, and knee-high black high-heeled leather boots with straps.