Catwoman Cosplay Costumes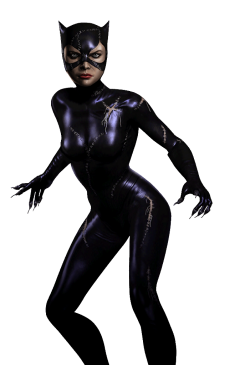 Last update was on: December 30, 2020 12:04 am
Catwoman Cosplay Costumes of 2021
Discover your inner Catwoman
Both Batman's foil and on-and-off-again lover, Catwoman has many similarities to the Caped Crusader. However, she is on the other side of the law, and she proves herself to be a match against Batman. This is a definitive guide to Catwoman cosplay.
Who is Catwoman?
Catwoman is the alter ego of Selina Kyle. At night, she dons her costume and becomes an actual cat burglar, stealing money and jewels with stealth and agility. She was so good that she attracted the attention of Gotham's infamous crime fighter, Batman.
The thing was that he became attracted to her, and vice versa. She would then use this attraction to her advantage, using her charm to escape his clutches at the last minute. She would become one of Batman's most challenging adversaries.
However, Catwoman couldn't be counted as a villain as she isn't really evil. While morally ambiguous, she never hurts innocents and she only steals for both the money and the thrill. But along the way, she leaves the criminal life behind and becomes one of Batman's allies.
How to Look Like Catwoman
Catwoman's physical appearance varies across different media. In the comics, she's usually depicted with short black hair, which makes sense as she puts on a mask that covers most of her head. However if you have long hair then a wig cap is an instant fix!
She is Gotham's quintessential femme fetale. As Selina Kyle, she's sultry, seductive and refined. As Catwoman, she's still all that, but also professional when it comes to getting into the action.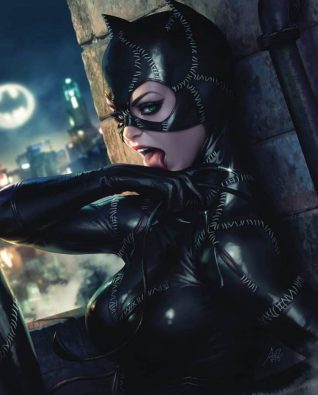 Catwoman Cosplay Buying Guide
Check out these great Catwoman cosplay, which are of the highest quality and have the best price, based on customer reviews. They have accurate sizing information, which should help you find a Catwoman costume that will fit you well.
Find The
Top 5 Best Catwoman Costumes of 2021
Classic Costume
The classic costumes are different from her later iterations due to the colors used. This Selina Kyle has long black hair, which is let down through her purple cat mask which can be made with eva foam. The mask covers half of her face and has large eye openings, and sports a pair of cat ears.
She wears a purple bodysuit with black arm gloves and black high-heeled boots. In some versions, she has a green cape as well. She carries around a long whip, which is her primary weapon and grappling device.
Batman: The Animated Series Costume
Much of this costume is a lot like the classic costume, but it's in a more discreet gray color and she doesn't have long hair. The easily replicable mask is black in the front and gray in the back. Around her waist is a belt with gold circular pieces around it.
The Dark Knight Rises Costume
This costume, worn by Anne Hathaway in the movie, has a black eye mask with two horns attacked that resemble cat ears. She wears a black patterned bodysuit with high-heeled boots that go up to the middle of her thighs.