Poison Ivy Cosplay Costumes
Marvel / DC

Ready to cosplay Poison Ivy? Here lie our top favorite costumes and accessories!
Last update was on: September 23, 2023 6:11 pm
Poison Ivy Cosplay Costumes of 2023
Discover your inner Poison Ivy
So, you want to cosplay as the plant mistress of Gotham City? Poison Ivy is a classic Batman villain who has since become a staple of the franchise. There has been renewed interest in her due to her friendship with the now massively popular Harley Quinn. Here's a guide to doing your own Poison Ivy cosplay.
Who is Poison Ivy?
Poison Ivy was once known as Dr. Pamela Lillian Isley, a promising botanist who loved her work with plants. Her origin story varies with each iteration of her character, but it always boiled down to her becoming disillusioned with humanity for how they ill-treated plants and Mother Nature.
Somewhere along the line, she would gain powers that allowed her to control and communicate with plants. She then named herself Poison Ivy and withdrew from humanity, vowing to take vengeance upon them for being cruel to plant life throughout history.
She is not evil as much as she is anti-human. However, there was one human being who did get through her, the former psychologist Harley Quinn. They would later develop a close relationship that saw them join forces as partners in crime.
How to Look Like Poison Ivy
Poison Ivy's most distinct physical features are her red hair, green eyes, sometimes green skin, and the occasional plants that wrap around her. These features can be achieved easily, you can wear a wig for her hair, put in contacts for her eyes and use some green body paint for her skin tone! She has had many iterations, varying in degrees of plant assimilation.
Just imagine a somewhat evil Jessica Rabbit with intense misanthropy and obsession with plants. That sums up the premise of Poison Ivy's character in a nutshell. Of course, she does get more backstory and development throughout the franchise, but that description should give you an idea of how to cosplay her.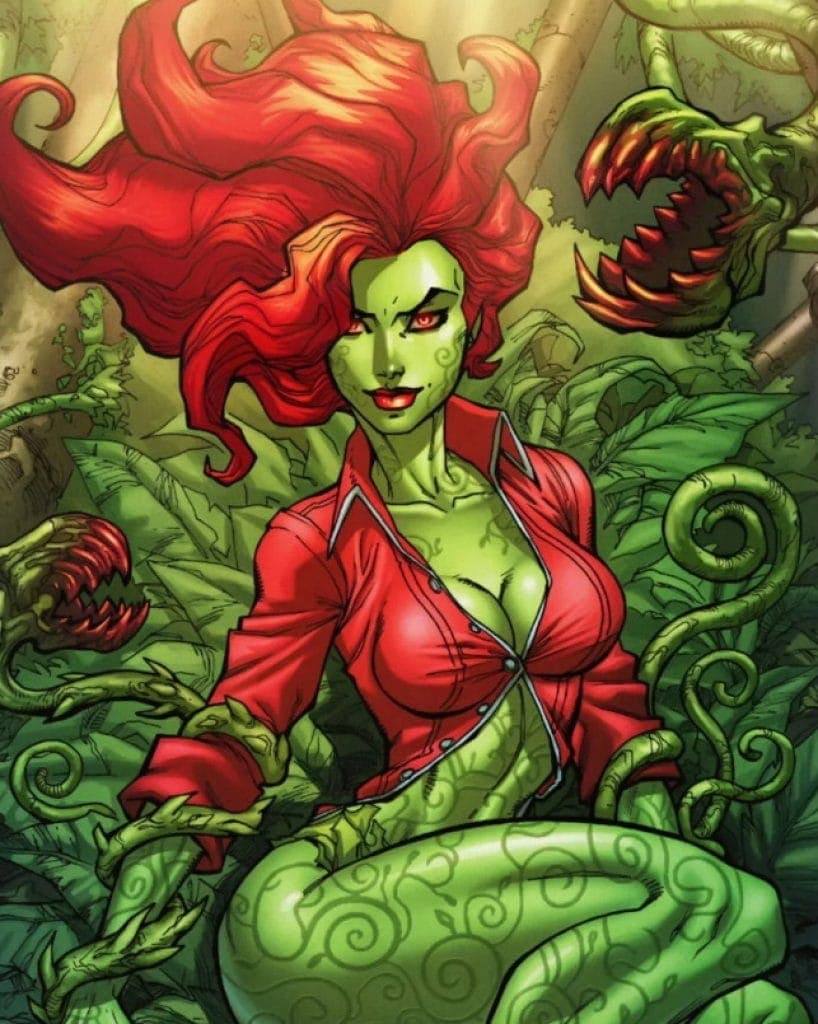 Poison Ivy Cosplay Buying Guide
Get the best cosplay for you by looking through these Poison Ivy costumes, which according to customer reviews, have the best price, the highest quality, and accurate size charts and information. You're sure to get the best costume possible that fits you just right!
Find The Best Poison Ivy Costumes of 2023
Classic Costume
There are many versions of Poison Ivy's classic look, but the one that could be considered as the standard is her look in the comic Hush. That's the quintessential version of Poison Ivy that hits all the crucial notes.
She has long red hair worn down, light green skin. She wears a green strapless one piece swimsuit, green arm and leg coverings. She would have green vines around her neck, around her shoulders, and on top of her arm coverings and hands.
Batman & Robin Movie Costume
This costume, worn by Uma Thurman in the movie, is distinct due to how the plant motif was implemented elegantly. Imagine a dryad, but it's Uma Thurman being a villain.
There are at least two different costumes she goes through in the movie. Let's talk about the one that's closer to the classic look of Poison Ivy.
She has the signature long red hair, which is matched with a band of red flowers and mistletoe-like leaves on top of her head. She also has olive green eyeshadow and spiny leaf eyebrows.
She wears a shiny dark green strapless top with shiny leaves all over it, dark green translucent arm coverings and pantyhose. The ends of the arm coverings also have tiny leaves bordering them.
Batman: The Animated Series Costume
If you're looking for a simple Poison Ivy costume, then you can go with her look in Batman: The Animated Series.
It's as simple as they come, with a green strapless one-piece swimsuit with jagged edges along the bikini line, green elbow-length gloves with sharp corners along the top, light green pantyhose, and green knee-high boots with the same sharp corners at the top.
You can say this was Poison Ivy before she totally became a plant-human hybrid.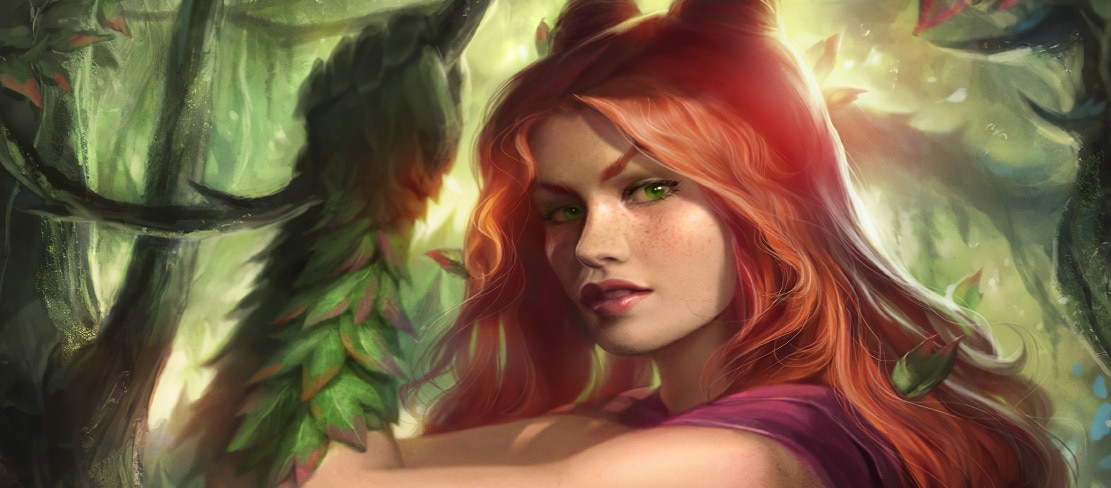 Green thumb for Poison Ivy? Dive deeper into the world of iconic female characters with our cosplay pages for Catwoman, Black Cat, and Harley Quinn.