Kim Possible Cosplay Costumes
Disney

Let's take a look at what it takes to cosplay as Kim Possible.
Last update was on: September 23, 2023 4:13 pm
Kim Possible Cosplay Costumes of 2023
Discover your inner Kim Possible
The show about the high school student moonlighting as an agent at night graced the screens during the 2000s, making it a time capsule of sorts for that particular decade. But underneath the premise and plot inspired from spy movies is a coming-of-age story of an ordinary young girl who was thrust into an extraordinary circumstance, and she charged into it without hesitation. Let's take a look at what it takes to cosplay as Kim Possible.
Who is Kim Possible?
Kim Possible is the protagonist of Disney's animated show of the same name, which originally ran from 2002 to 2007. She's a high school student by day and freelance troubleshooter by night. Unlike other people in this line of work, she doesn't use a secret identity, which shows her level of self-confidence.
She first went into this line of work to supplement her income. She first put up her website for her babysitting service, but was inadvertently contacted by Mr. McHenry, who became interested in her due to her slogan "I can do anything." He somehow interpreted it as her being willing to do clandestine work, and she went into it without too much reservation.
As for her sidekick, she has her childhood friend Ron Stoppable to help her during missions. Despite living such an action-packed life on the side, she is still a teenager with insecurities and growing pains. The show explores how she juggles between her high school life and her moonlighting as an agent.
How to Look Like Kim Possible
Kim Possible's most distinct physical features are her long orange hair, big green eyes, and slender figure. She is very energetic and headstrong, which allows her to somehow balance school and her work as a freelance troubleshooting agent.
She wore her hair in pigtails as a child and in a long ponytail as a pre-teen. As a teenager, she chooses to let it down, and it's certainly her most recognizable trait.

Kim Possible Cosplay Variations
There are only three Kim Possible cosplay variations, and the first one would be the most recognizable one. The other two are meant for occasions where most people present are fans of the show, although the second one is quite close to the appearance of the first Kim Possible costume.
Find The Best Kim Possible Costumes of 2023
Regular Outfit
Kim's usual outfit when she's doing missions is a black long-sleeved turtleneck crop top, black gloves with rolled cuffs, dark green cargo pants with brown utility belt and dark green satchel on her right side, and black shoes.
Alternate Outfit
She has also worn a slightly different outfit for missions in Season 4, with a purple short-sleeved turtleneck shirt, dark beige biker gloves, black pants with purple stripes on the sides, dark beige utility belt, dark beige satchel strapped to her right thigh, and dark beige shoes.
Cheerleader Outfit
She's also the captain of her high school's cheerleading squad, so she is often seen in her cheerleader outfit while in school. It's usually a purple sleeveless crop top with vermillion accents, purple knee-length skirt with vermillion and yellow accents, vermillion socks, and white shoes. She's also seen holding yellow pom-poms with dark purple handles whenever she's in this outfit.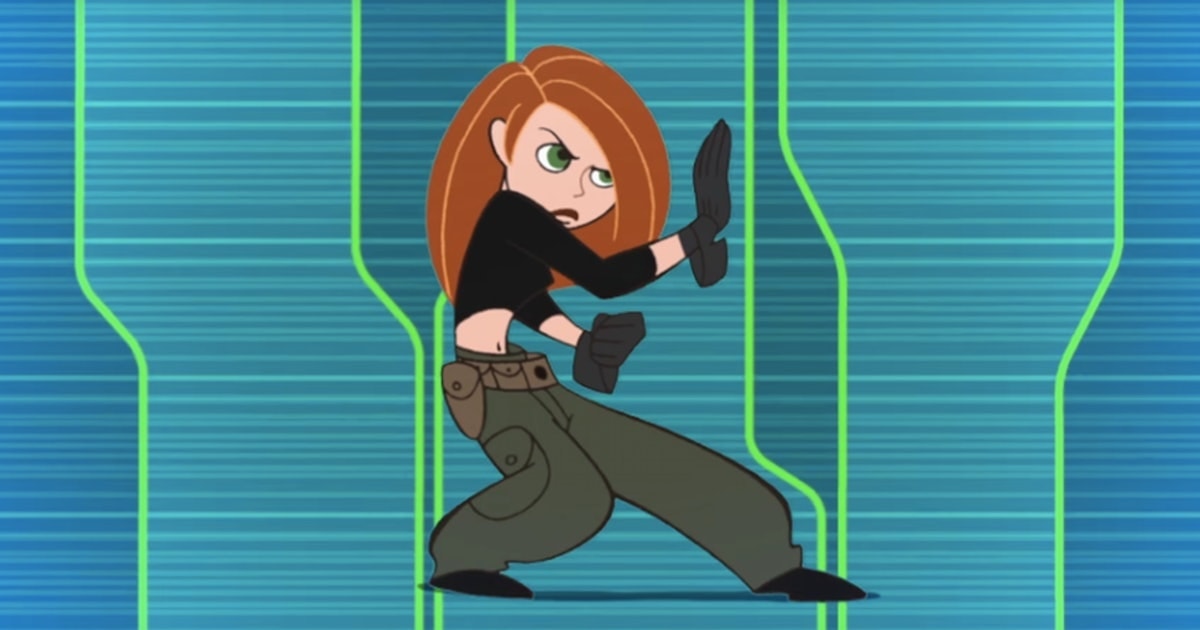 After exploring the world of Kim Possible, why not dive deeper into the lives of other multifaceted characters like Jessica Rabbit and Shego?