Spider-Gwen Cosplay Costumes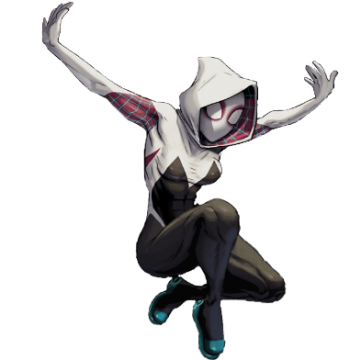 Last update was on: December 1, 2020 9:03 am
Spider-Gwen Cosplay Costumes of 2021
Discover your inner Spider-Gwen
Spider-Gwen is another variation of a spider-like hero from a different universe. In the original Marvel universe, Gwen is one of Peter Parker's love interests but unfortunately met her demise at the hands of Spidey's villains. In Spider-Gwen's universe, it is the other way around where Peter met her demise and Gwen is the web slinging superheroine. Do you ship Gwen and Peter? Check out this cute fan art! She is also one of the superheroes that is very easy to copy for cosplays as she only has 1 costume.
Who is Spider-Gwen?
On a parallel universe called Earth-65, Gwendoline Stacy was bitten by a radioactive spider granting her all quintessential Spider-man powers. This incident began her career as Spider-woman but her fans soon called her Spider-Gwen. When she's not slinging her webs and being the superheroine that she is, Gwen attends high school and is in a relationship with this universe's Peter Parker. Parker was bullied as a student and this eventually worsens and he creates a formula that turns him into a lizard mutant.
On the night of prom, after Parker was bullied again, he injected himself with the formula and transformed. Gwen Stacy, dons her Spider-woman costume and fights Peter, defeating and accidentally killing him. Peter regresses into human form and Stacy fleds the scene; creating a misconception that she murdered Peter Parker. This is where her comic book story begins.
How To Look Like Spider-Gwen
Spider-Gwen is one of those superheroes that is easy to copy since she only has one uniform or costume. However, this also requires you to wear a wig to match her looks since most of the time when she wears her spandex costume, she doesn't wear the headpiece. 
Spider-Gwen costume is not common in the cosplay scene as most people, especially the new ones, would choose the regular Spider-woman to copy. This makes Spider-Gwen's costume a refreshing scene.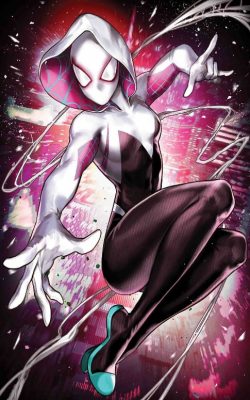 Spider-Gwen Costume Buying Guide
Unlike the original Spider-man with multiple variations of his costumes, Spider-Gwen only has one which makes this part easy. We collated the best Spider-Gwen costumes, check out our list above.
Find The
Top 5 Best
Spider-Gwen Costumes of 2021
Original Spider-Gwen Suit
Her costume is a variation of Earth-616 (main universe) Spider-man's costume. She dons a one piece spandex that is black from the bottom part up until her bosom part. The other half is white. She also has a unique feature where her spandex has a white hoodie. There are also red and white spider web patterns under her arm and the inside part of her hoodie. Her headpiece is just plain white with markings for the eye part. Most of the time when she's not wearing her headpiece, her blonde hair is cut just slightly above her shoulder with bangs and her hair is neatly fixed with a headband.