Bulma Cosplay Costumes
Dragon Ball

Check out the most popular Bulma costumes below, chosen for comfort and durability at the craziest of conventions!
Last update was on: September 23, 2023 4:13 pm
Bulma Cosplay Costumes of 2023
Discover your inner Bulma
Who is Bulma?
Bulma is the second daughter of Dr. Brief, the founder of Capsule Corporation. The audience first encounters her when she accidentally hits a young Goku with her car. It was Goku's second interaction with a human and his first time seeing a female, so the experience was quite noteworthy.
After finding out that they have a shared interest in collecting dragon balls (but with different motivations), she agreed to become a travelling partner to Goku. A number of episodes later, and she develops a relationship with Vegeta, an enemy turned ally, which ends with them forming their own family together, despite having a rocky start.
Ever since her appearance in the first episode, she continued to play a prominent role in the series. She may not have any powerful abilities, but it can't be denied that she was a major influence that kickstarted the series we all know and love.
Bulma's influence doesn't just extend to the main heroes; she also has intriguing interactions with other characters like Android 18. Although initially enemies due to Android 18's mission to destroy Goku, they eventually become friends and even share some surprisingly tender moments. This is especially evident when Bulma helps with Android 18's transformation from a deadly adversary to a supportive family member, illustrating the breadth of Bulma's impact across the series.
How to look like Bulma?
She has blue eyes and prominent lashes, so it might be a good idea to look for natural-looking but long false eyelashes. She has also taken a liking to red lipsticks in the later parts of the series. Check out our guides on how to do anime makeup and anime eye makeup.
Her hair color varies in the series, but turquoise seems to be a canon choice. She had over 18 hairstyle changes throughout the series, so just imagine how many outfit changes she has!
So, you have decided to cosplay as the most iconic female Dragon Ball character of all time. Despite not having any martial arts prowess as the other protagonists, Bulma proved herself as a worthy ally with her wits and intellect. If you're looking to create the best Bulma cosplay, then this is the perfect guide to solve your problem.

Bulma Cosplay Buying Guide
We've reviewed the top Bulma cosplay and chose the best ones according to customer reviews. A major concern is always the size of each costume, so we prepared accurate sizing charts and information for you.
Find The Best Bulma Costumes of 2023
Dragon Ball Costume
Her most memorable costume has got to be her first one. She wore a short pink dress with bold letters of her name on it, a purple handkerchief around her neck, a blue fanny pack with leather strap, and blue sneakers with purple socks. Her hair is also tied in a braid with a red ribbon. She wears a red watch on her left wrist and a brown leather glove on her right hand. Her costume is quite comfortable to wear so you don't have to worry about sacrificing mobility during a convention.
 Namek Costume
Another well-known costume is her suit during their stay in Namek. She was wearing a full black bodysuit below a yellow dress with a cinched waist, and a pair of orange boots. Make sure to look for a bodysuit made with spandex to avoid unnecessary tearing of the material!
Buu Saga Costume
A departure from her shoulder-length hair, she went for a pixie cut with full bangs. She also wears small gold hooped earrings and a red lipstick, along with a yellow handkerchief on her neck, green mid-calf socks and yellow boots. Her body-fitting sleeveless red dress is probably the simplest one out of all her costumes, so you only have to worry about your size.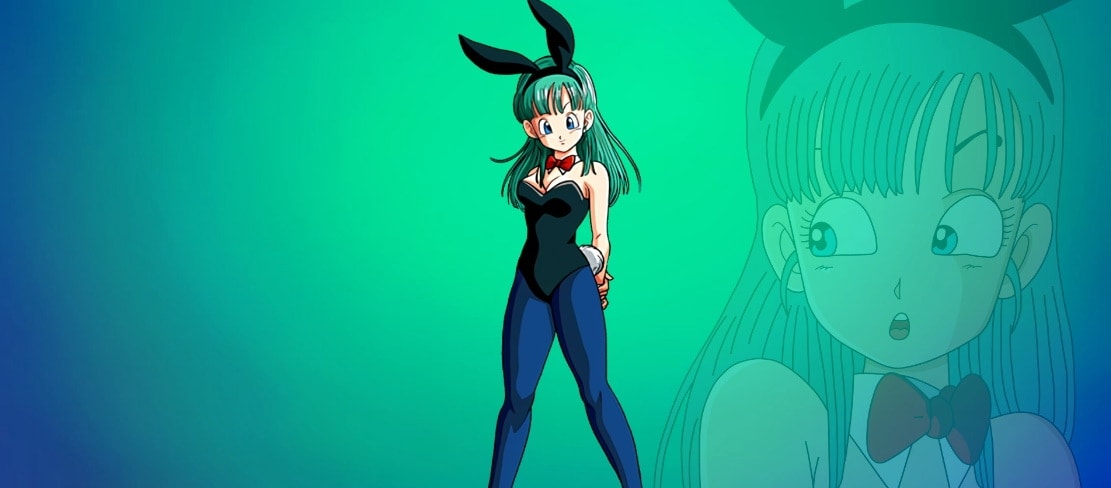 Looking for more iconic anime characters to cosplay? Don't miss Goku and Erza Scarlet, who like Bulma, have left an indelible mark on the genre.