Let's take a look at what it takes to cosplay as Hu Tao, the young purveyor of last rite!
Last update was on: June 7, 2023 2:12 am
Hu Tao Cosplay Costumes of 2023
The 77th Director of the Wangsheng Funeral Parlor
So, you want to cosplay as the young purveyor of last rites? Hu Tao is one of the most popular characters in Genshin Impact due to both her gameplay and her design. Ever since she was a young girl, she had one goal in mind – help families send off their recently departed loved ones with the kind of respect they deserve. She accomplished this by becoming a funeral director. Let's take a look at what you should look out for when cosplaying Hu Tao.
Who is Hu Tao?
Hu Tao is a five-star pyro polearm user and a guardian of the afterlife, serving as the director of the Wangsheng Funeral Parlor. She's a friend of Zhongli and is one of the most eccentric characters in Genshin Impact. She is quite an unusual character even in the fact that she can sometimes deal high damage to enemies.
Even as a child, Hu Tao was already quite peculiar. She did things like reading while exercising, perhaps showing a predilection for being efficient. While that doesn't seem that unusual, she did start reading at the age of 3, so perhaps it's due to her being gifted that makes her unusual.
She has always been preoccupied with the dead, even sneaking out of school to take naps in coffins. She arranged her first funeral at 13, which showed that she has the mind for it. Considering that this role was passed on to her at such a young age, she has taken it incredibly seriously.
Even as a child, Hu Tao acts respectful and solemn in funerals as she sees her role as of great importance and makes great effort in getting every aspect of it right. She has an abundance of knowledge when it comes to the interplay of life and death, as well as everything that stands between them.
Perhaps due to this seriousness, she can be a difficult person to hang out with. She is seen as a bit creepy by most people, which is why she likes being a loner. To others, she seems like a humorless person with a blunt and almost rude demeanor.
However, when you realize that she has walked the line between life and death every single day even as a child, Hu Tao's personality becomes more understandable. She takes her role very seriously and she is one of the best playable characters you can get in Genshin Impact.
How to Look Like Hu Tao
Hu Tao's most distinct physical features are her fair complexion and small frame, as well as her unique scarlet eyes that feature beautiful blossom-shaped pupils. Her hair is long and brown with crimson tips and is styled into two highly placed twin-tails. She also has bangs that she styles on the left side of her face. 
There is a big contrast between her serious role as the director of a funeral parlor and her young age and tiny frame. This combination of seemingly opposing traits makes her a popular character in Genshin Impact, and it doesn't hurt that she's pretty strong in gameplay as well.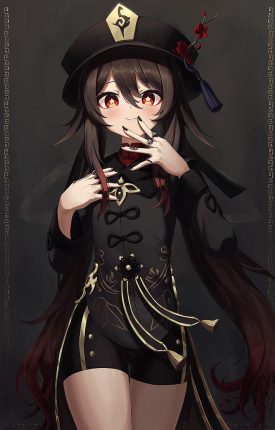 Hu Tao Cosplay Buying Guide
The Hu Tao cosplay depends on how accurate you can get your Hu Tao costume as there is only one that most know from the game.
The Top Hu Tao Costumes of 2023
Plum Blossom Bouquet
This outfit is Hu Tao's daily work clothes as the director of Wangsheng Funeral Parlor, combining the pragmatic and fitting colors for a funeral director and the cuteness and elegance you'd expect from a playable character in Genshin Impact.
Her outfit is composed of a traditional red shirt with a mandarin collar. She is also seen wearing a brown coat with sleeve cuffs. She typically also wears black shorts that feature accents in gold. She is seen wearing a black porkpie hat that features a red plum blossom branch.
She has her Pyro Vision embedded on the back of her coat. The coat is decorated with golden brooches that she wears underneath the collar and waist. She also wairs white knee-high socks, paired with red straps featuring lovely plum blossom flowers. She combines her entire outfit with black dress shoes with small heels.
She also has her fingernails painted black and wears rings on her index, middle, and ring fingers. To complete the outfit, she has her weapon, which is her Pyro Polearm.