Mileena Cosplay Costumes
Video Games

Check out the most popular Mileena costumes below, chosen for comfort and durability at the craziest of conventions!
Last update was on: September 23, 2023 2:13 pm
Mileena Cosplay Costumes of 2023
Discover your inner Mileena
She is a masked seductress with awesome skills. She also has a deadly secret no man would ever want to find out under that mask. Mileena is one of the best-known and most recognizable characters from the Mortal Kombat franchise, and we can help you with your Mileena cosplay with this complete guide.
Who is Mileena?
Mileena is a clone of the Edenian princess Kitana. She was made by Shang Tsung in his flesh pits. With his dark sorcery, Shang Tsung mixed Tarkatan blood and Edenian physiology to create a perfect killer in the service of Shao Kahn. Her purpose is to kill Kitana and replace her as princess of Edenia. Do you know all of these interesting facts about The Princess Of Edenia?
She has the beautiful body of Kitana, but the facial features and bloodlust of a Tarkatan. Mileena is a fatal combination of beauty and savagery, making her a woman that a man would literally die for. Her physical capabilities rival that of the fiercest warriors of all realms, with the strength of a Shokan and the speed that would make someone like Kabal blush.
How to Look Like Mileena
Mileena's most distinct physical features are her voluptuous Edenian body, feline-like Tarkatan eyes, and monstrous teeth. Her hair is shorter than that of Kitana, but almost everything else is practically identical. Everything else that's different is due to her Tarkatan genetics. Mileena's teeth can be replicated with an amazing material called polymorph. We talk about polymorph in our guide on how to make fangs and teeth.
What's absolutely different between her and Kitana is Mileena's viciousness. Her main focus is killing Kitana, and she would tear through anyone who gets in her way. Due to the nature and intended purpose of her creation, she is mentally unstable and incredibly dangerous. Her preferred weapon is a pair of sai and she fights with a combination of martial arts and animalistic instincts.

Mileena Cosplay Buying Guide
We have here the top Mileena cosplay with the best possible quality and price, based on many customer reviews. You need not worry about getting a Mileena costume that doesn't fit as these items have accurate information and sizing charts for your convenience.
Find The Best Mileena Costumes of 2023
Classic Costumes
As with all female "ninja" characters in the first Mortal Kombat game, she wears a leotard and headband with knee-high boots and arm gloves. To differentiate her from the rest, her color is purple.
In Ultimate Mortal Kombat 3, like her counterparts, this is replaced with a one-piece with a laced split in the middle of the torso.
Deception Costume
She got a much different costume for Mortal Kombat: Deception, replacing the one-piece with a black top with a long tail and purple long sleeves. It reveals much of her breasts and midriff with a leather strap connected with a ring above her navel.
Below, she just wears a black bikini bottom with purple trim, as well as black knee-high high-heeled boots with purple knee covering and straps.
Her hair is put up in a high ponytail and the lower half of her face is covered with a purple veil.
Mortal Kombat 9 Costumes
For the reboot, she wears a very revealing costume that looks a bit like what she wore in UMK3. She wears a purple one-piece that splits down the middle and exposes much of her lower side and back.
She also wears purple fingerless arm gloves and black braces around her biceps, along with purple high-heeled boots with black knee coverings and black fishnet on the top. On her face is a purple mask like that of her classic costume. Her hair in this version is shoulder length and kept down.
What's your favourite skin? Take a look at the best and worst alternate skins from Mortal Kombat.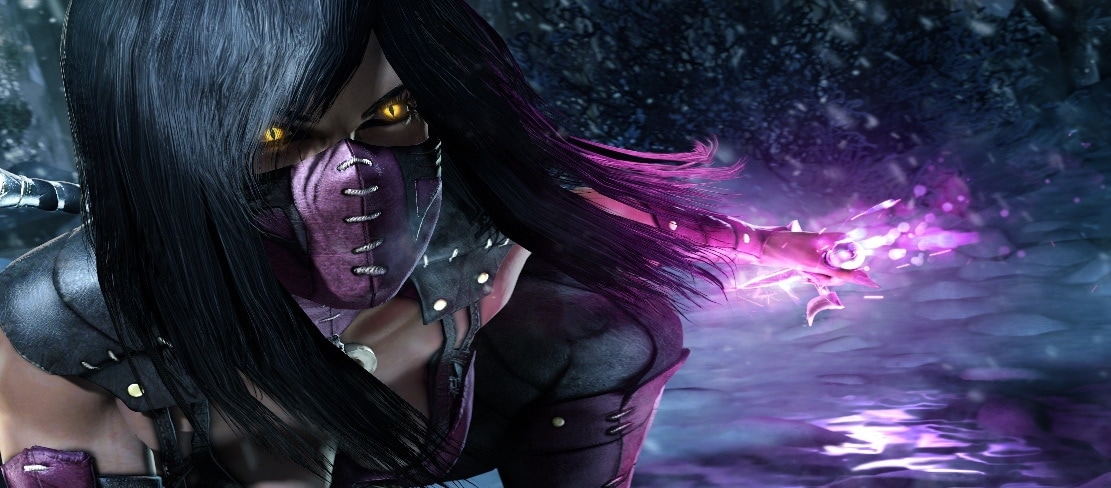 If you're fascinated by the deadly and sultry nature of Mileena, you won't want to overlook our guides on other femme fatales of gaming. Check out our tips on cosplaying Kitana, Mileena's blue-clad sister, or the equally dangerous Cammy from the Street Fighter universe.