NieR: Automata Cosplay Costumes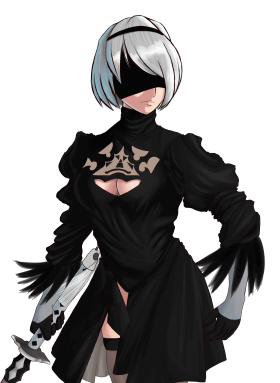 Ready to create the best cosplay of all time? Take a look at our most popular NieR: Automata costumes and accessories!
Last update was on: December 5, 2023 10:12 am
NieR: Automata Cosplay Costumes of 2023
What is NieR: Automata?
Set in a post-apocalyptic Earth, the story of NieR: Automata follows the journey of 2B and 9S during the 14th Machine War. They, along with other android units of YoRHa, face opponents of extraterrestrial origin as they are thrown into various moral dilemmas that make them rethink their purpose in the world.
Eventually, they meet A2, a rogue android who turns out to be a prototype model for the creation of advanced androids such as 2B and 9S. She does not trust the YoRHa Command and avoids spilling information to the two unless necessary.
The game has 27 different endings, all dependent on the choices of the player. The five main endings offer the players with different perspectives of the characters and provide more information about the game's lore. The other endings are acquired when certain tasks within the game are failed or choices made are not in line with the main endings. Check out the 10 best Nier: Automata endings.
How to look like the Androids of NieR: Automata?
The Androids are easily distinguished by their platinum hair, and an added black blindfolds worn by 2B and 9S. 2B has a short bob and side-swept bangs and wears a black headband, with a blindfold that almost covers her right cheek. 9S has short hair and tapered full bangs. A2 has long white hair and her fringe almost covers the left part of her face. All three androids have blue eyes and share almost the exact same facial features. 
While all of these wigs are available online, additional styling may be needed as wigs are usually flat packed upon arrival. Take a look at these guides below: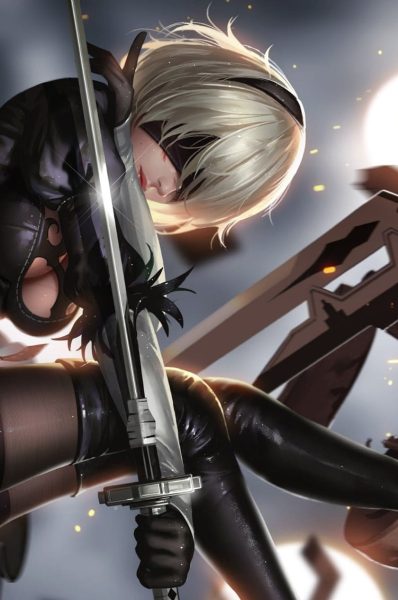 NieR: Automata has some of the most astonishing android characters in action role-playing games (ARPGs) with a gripping story to boot. The player controls the characters of 2B, 9S, and A2 as they venture into a post-apocalyptic world. Our guide will help you achieve the best NieR: Automata cosplay and look as awesome as the characters during the convention.
NieR: Automata Cosplay Buying Guide
We searched for the top NieR: Automata Cosplay and selected the best according to customer reviews. Size is an important priority, that's why we prepared accurate sizing charts and information for each NieR: Automata costume, so you'll never have to worry about a saggy or tight costume on the day of the convention.
Find The Top 4
NieR: Automata Costumes &
Wigs of 2023
2B
2B's costume is reminiscent of a gothic lolita fashion. Her black turtleneck dress has long sleeves with puffed shoulders, lace covering the chest area, and white gloves with black accent. Her dress also has a backless design with lace that covers the back of her shoulders. Her skirt has a silver pattern and a high slit on the hem at the right, revealing her white underwear. She also wears thigh highs and black heeled boots.
9S
9S's black outfit looks similar to a military-type coat. His coat has the same silver pattern as 2B's on the hem. He wears a pair of black gloves and a black choker with a square pendant that has an "X" symbol. He also wears black above-the-knee shorts, a pair of black socks and mid calf boots with three buckles.
A2
A2 wears a black halter top, with strings attached on the shoulder area and a silver pattern on the hem, and a pair of long black gloves . She also wears black low rise shorts and torn black stockings, with the left one almost revealing her whole leg, and black open-toed heels. She sports long hair for most of the game, she cuts her hair short, similar to 2B's, in one of the main endings.
If you're fascinated by the deep storyline and complex characters of Nier: Automata, you might also find yourself drawn to other strong, combat-ready women. Check out our cosplay guides for Bayonetta, the Umbra Witch with guns on her heels, and Tifa Lockhart, the fierce martial artist from Final Fantasy VII.