Last update was on: December 1, 2020 9:04 am
Fortnite Cosplay Costumes of 2021
What is Fortnite?
Fortnite is a free-to-play third person shooter game with a battle royale mode and an additional building mechanic. As with all battle royale games, a player, duo, or a squad needs to be the last one standing against other opponents. The total number of players in a match is 100, and they have to survive by eliminating enemies and scavenging weapons, ammunition, or materials in their surroundings to build forts or traps.
Originally, Fortnite started with a game mode called Save the World, where a team of four players wipe out a horde of zombie-like creatures called husks. Another game mode, Fortnite Creative, allows the player to optimize the building mechanic of the game and build any structure they want. The battle royal mode was only released  after the success of PlayerUnknown's Battlegrounds (PUBG), and Epic Games saw the potential of simulating the same mechanics with Fortnite.
How to look like a Fortnite Character?
Fortnite characters have a bright color palette. Most skins have vibrant costumes and eye-catching color combinations, while most shooter games use gritty colors and a dark atmosphere. Comic book characters like Marvel heroes and pop culture icons such as John Wick also get the Fortnite artistic treatment to fit the game's art style.
So you want to cosplay as a character of the fast-paced, build-and-battle world of Fortnite. With more than 200 skins (and counting!), you'll never run out of costume ideas to choose from. If you're planning to make an amazing Fortnite Cosplay, then this is the perfect guide for you!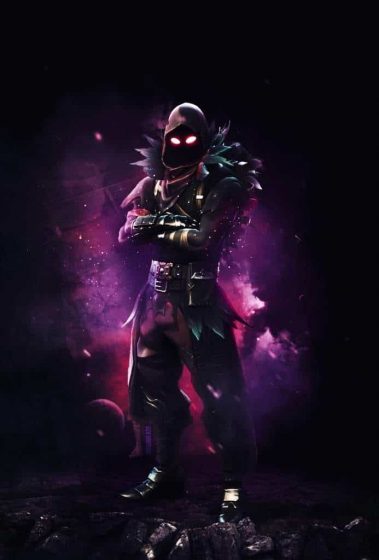 Fortnite Cosplay Buying Guide
We have here the top Fortnite Cosplay and chose the best according to customer reviews. For an authentic portrayal, we prepared accurate sizing charts and information for each Fortnite Costume, so you'll get the perfect fit for your chosen costume.
Find The Top 8 Best Fortnite Costumes of 2021
Raptor
Raptor is one of the most distinguishable characters of Fortnite. His yellow ski mask and brown bomber jacket with a furry collar stand out from other skins. He wears a tactical headset over his ski mask, brown undershirt, black ammunition belt, a pair of yellow gloves, and an army backpack with a small shovel attached on the left. His brown tactical pants are tucked inside his  combat boots. He also wears a pair of black knee pads and has a black leg strap fastened on his right thigh.
Raven
Raven is a Legendary skin and is deemed as one of the most popular male skins in the game. A noticeable feature is his glowing purple eyes while the rest of his face is hidden. He dons a black high-collared top with a hood and feather attachments, a black vest, a purple handkerchief on his neck, and a pair of black gloves with tips that look like claws. He wears two brown belts with a black utility pouch on the left. His purple pants have two layers of torn cloth covering the sides. He also wears a pair of metallic shin guards and dress boots.
A lot of the fortnite costumes are difficult to master when just starting out, you might want to take a look at out guide on how to get into cosplay.