Tracer Cosplay Costumes
Video Games

Ready to create the best cosplay of all time? Take a look at our most popular Tracer costumes and accessories!
Last update was on: September 23, 2023 8:12 pm
Tracer Cosplay Costumes of 2023
Discover your inner Tracer
If anyone tells you that shooter games are only for characters with serious disposition, Tracer will gladly prove that wrong. With her bright yellow suit and cheerful personality, Tracer is one of the most well-loved heroes in Overwatch. Want to create an amazing Tracer cosplay? Continue reading and find out how to achieve her costume.
Who is Tracer?
Tracer is Lena Oxton's call sign, and was the youngest person ever drafted as a pilot in Overwatch's experimental flight program. She was chosen to test a prototype of the Slipstream, a teleporting fighter aircraft. Unfortunately, the fighter's teleportation matrix went haywire, disappearing together with its pilot.
Initially believed to be dead, she reappeared after a few months but she was not the same. Her body had difficulty retaining its physical form and kept vanishing for hours or even days on end. Tracer became unhinged with the natural flow of time. Her condition, chronal disassociation, left scientists at a dead end until a scientist named Winston developed a chronal accelerator to anchor her body to the present. Not only that, but she was also able to manipulate her own time.
Her newfound abilities was a great asset to Overwatch, becoming one of their most effective agents. Feeling a great sense of responsibility, she uses all her abilities for a good cause and does not think twice to save anyone from harm.
How to look like Tracer?
Tracer has short brown spiky hair, parted on the left side which can easily be replicated with a bit of wig styling. She has hazel eyes with thick eyelashes and also has visible freckles. Already have natural freckles? That's great! If not, then use a light brown eyeliner to draw faux freckles on your face.
Eagle-eyed cosplayers can spot her piercings on her left ear, consisting of two small hooped silver rings.
The most important step to be a convincing Tracer, is to have her iconic orange lens goggles. These are already available on Amazon but if you're feeling creative, how about making your own?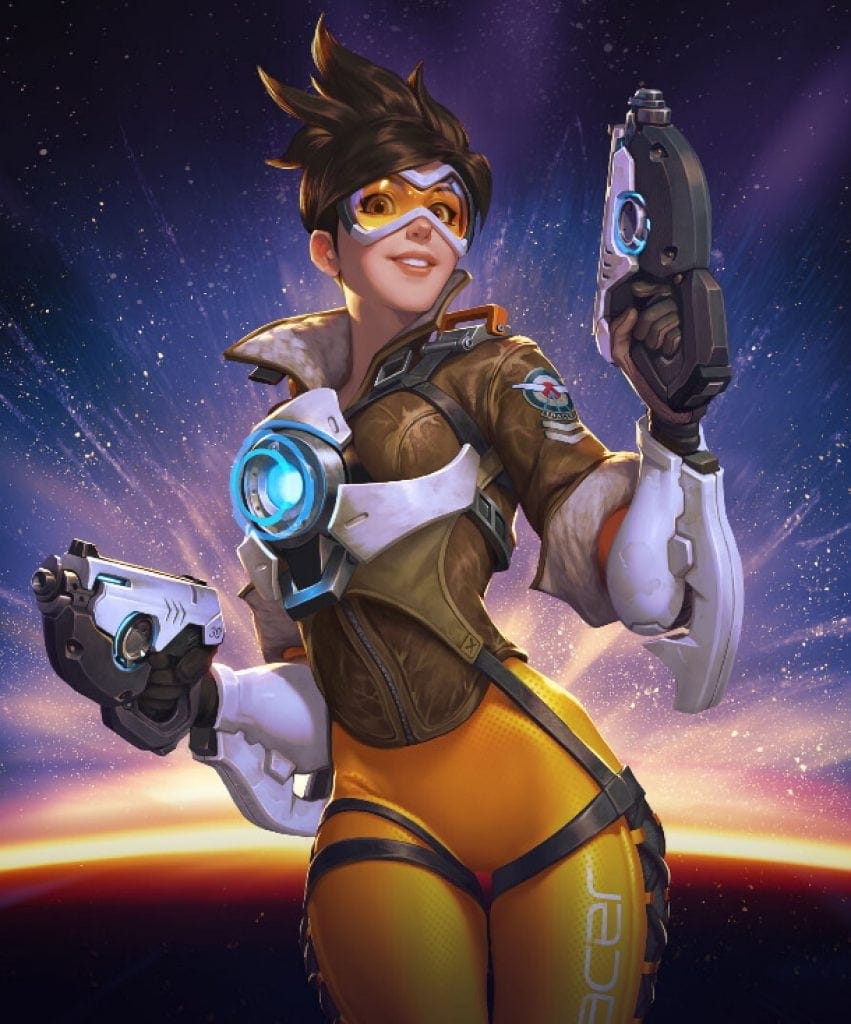 Tracer Cosplay Buying Guide
We have here the best Tracer Cosplay based on customer reviews. No need to worry about your costume size, because we prepared accurate sizing charts and information so you can choose the perfect fit for you.
Find The Best Tracer Costumes & Accessories
Classic Skin
Tracer wears a brown aviator jacket with an embroidered patch of the Union Jack on her right arm and her personal logo on her left arm. Strapped in the middle of her chest is her white chronal accelerator with a bluish glow. She also wears a pair of white bulky arm guards and dark brown leather gloves.
Her bright yellow tights reflect her bright personality. From the knees down, her tights subtly turn into an orange hue. She dons a pair of white footwear similar to running shoes, a logical option considering her time-shifting abilities to speed up or slow down at will.
Ultraviolet
A complete opposite to her bright yellow ensemble, Tracer wears a combination of black and white in this edgy skin. Her hair is now platinum white and shaved at the right side. She also wears black goggles, with a skull painted on the left lens.
She wears a black studded leather jacket and belt, and her white chronal accelerator has purple accents and a skull design. Her left armguard has the word "punk" written on it. Her tights have black and white stripes and purple patches on her left thigh and right knee, while her shoes are predominantly black with metallic spikes.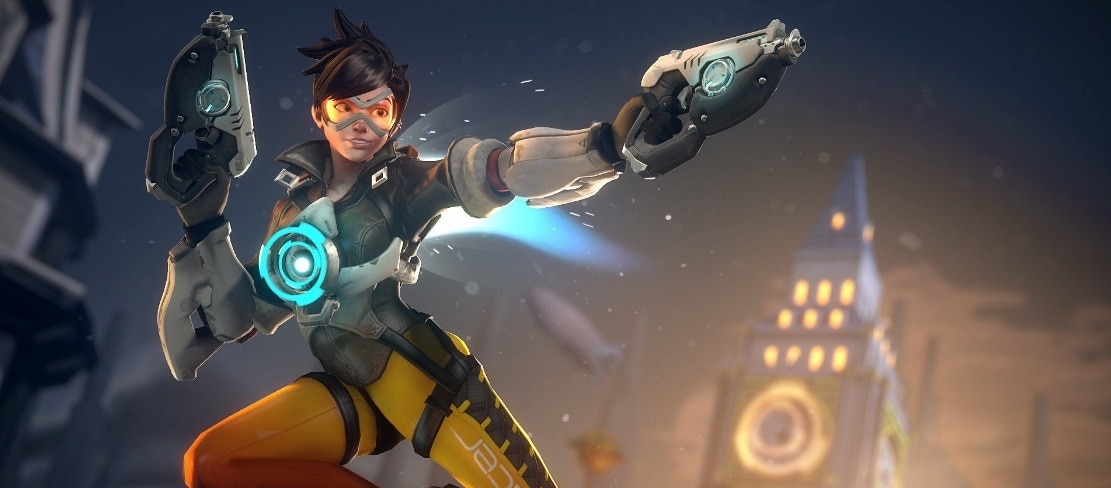 Interested in Overwatch's heroines? Explore the healing wonders of Mercy, the icy mysteries of Mei, or get lost in the deadly grace of Widowmaker. For fast-paced action, don't miss our D.Va cosplay section!