Mai Shiranui Cosplay Costumes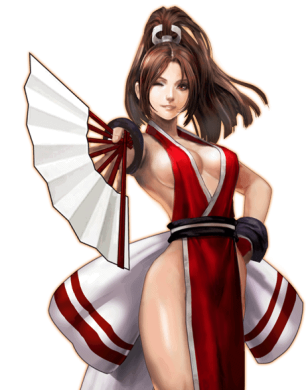 Ready to cosplay Mai Shiranui? Here lie our top favorite costumes and accessories!
Mai Shiranui Cosplay Costumes of 2023
Discover your inner Mai Shiranui
Who is Mai Shiranui?
Coming from a long line of ninjutsu masters, Mai Shiranui is a formidable fighter who wields a Kachou Sen or butterfly fans in combat. She distracts her opponents using her physical appearance and uses this opportunity to strike. She also has the ability to control fire and she incorporates these in her moves.
The lore of Fatal Fury and The King of Fighters shows her forming a relationship with Andy Bogard. They rarely express their affections in an outright manner but it's apparent that they do have feelings for each other. Because of this reluctance, their relationship is often portrayed as comical. However, it is important to note that their relationship was taken more seriously in the Fatal Fury: The Motion Picture, where they often helped each other in combat and Andy got more inclined to protect her when she's hurt.
How to look like Mai Shiranui?
Maai has long brown hair styled in a ponytail, with her fringes parted in the middle. She has brown eyes and wears very minimal makeup on her face.  If you don't have brown hair, then you can purchase Mai's wig online and view our how to style a wig guide for tips.
Her most distinct feature is her ample bosom which is quite exposed by her clothing. She is relatively proud of her physical features, that's why she is not afraid to show it off. With that said, cosplaying as Mai would call for a certain amount of confidence to achieve an accurate portrayal of her character. Take a look at these Mai Shiranui cosplays for inspiration!  
An alluring but deadly kunoichi, Mai Shiranui is one of the most recognizable female fighting game characters of all time. If she sees you staring way too long at her revealing outfit, you'll get caught in her fiery trap! If you're planning to create an awesome Mai Shiranui Cosplay, then this guide is perfect for you! 

Mai Shiranui Cosplay Buying Guide
We prepared the top Mai Shiranui Cosplay and chose the best ones according to customer reviews. She may be wearing very minimal clothing, but size is still important for a comfortable fit. That's why we prepared accurate sizing charts and information to make it easier for you to choose the perfect Mai Shiranui costume for you.
Find The Best
Mai Shiranui Costumes of 2023
Kunoichi Outfit
Mai wears a sleeveless red-and-white kunoichi dress and is tied in the middle with a white (sometimes black) obi. In the earlier versions of the games, she is featured with a huge white ribbon behind her waist, which was brought back in her latest design. She also has a white rope tied into a ribbon on her back and wears the bow as a strap. 
Red and white tassels with orbs are attached to her dress, although in The King of Fighters XIII, her outfit only has a white tassel with a red orb. She also wears a pair of black and red tabi socks and sandals, secured with a white strap. Her red fingerless gloves have brown cuffs. 
Her weapon of choice, Kachou Sen,  is a pair of white hand fans with a red wooden guard. In most games, red tassels are attached to her fans, but this feature has been omitted in her newer designs. She uses her Kachou Sen in creating fire that she applies in her attacks. For a cheaper alternative, why not create your own hand fans at home? Here's a tutorial if you'd like to give it a go!
If you're a fan of the fiery and agile Mai Shiranui, you might also be interested in the deadly allure of Cammy from Street Fighter or the martial arts expertise of Chun Li.