Last update was on: December 1, 2020 9:03 am
D.Va might look adorable in her blue suit and pink whiskers, but she's one tough gal on the battlefield! A hero who never backs down, she is always determined to go all out for a win. If you're planning to create a D.Va cosplay, then our guide will help you nail the look.
Who is D.Va?
D.Va, whose real name is Hana Song, is a former professional gamer and reigning world champion recruited by the South Korean government to protect the country from constant omnic attacks. 
Initially, the government deployed mechanized armored drone units called MEKA to resist the ongoing attacks, but the omnic gradually learned how these drones operate, and quickly adapted to their fighting style. The military had no choice but to recruit pilots to command each unit. They decided to enlist top professional gamers, including D.Va, who possess impressive reflexes and intuition, perfect for intense combat against the omnics.
Despite the huge responsibility of defending her country, D.Va is undeterred in facing the enemies, turning every mission into a game that she has to win everytime.
How to look like D.Va?
D.Va's iconic features are those four pink triangles on her cheeks, resembling cat whiskers. Custom-made stickers are available online, but this is an easy fix if you have a bright pink lipstick or face paint.
She also has brown doll-like eyes and thick lashes. To make your eyes pop like hers, create a winged eyeliner on your upper eyelid and line your lower eyelids with white eyeliner. Apply false eyelashes and even larger contact lenses to complete the doll-eyed look.
She has long brown hair and short bangs swept to the right. You can either use a full wig or attach extensions if your natural hair looks similar to hers.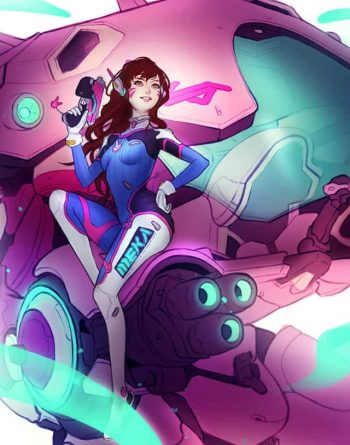 D.Va Cosplay Buying Guide
We have here the top D.Va cosplay with the best quality and price according to customer reviews. No need to worry about sizes, we prepared accurate information and sizing charts so you can choose the perfect D.Va costume for you!
Find The Best D.Va Costumes and Accessories
of 2021
Classic Skin
She wears a full bodysuit with the iconic white-and-pink bunny logo on her chest. The main color of the body suit is blue, with white shoulder pads, gray neck covering, white sections on her outer thighs to her footwear embedded with several logos, and black and pink accents on her chest and waist. The most comfortable material to wear is a bodysuit made of spandex. This provides mobility and the material will not rip off easily. 
D.Va also wears a black wireless headset with an angular design. Custom headsets and replicas are available on Amazon, but crafty cosplayers can make this from scratch using foam or thermoplastic sheets if they have the time. Here's a tutorial if you'd like to give it a go.
Black Cat
One of her most popular skins, Black Cat is D.Va's take on a gothic lolita dress. She wears an ensemble of a black dress with a huge pink ribbon on her neck, puffy sleeves, a black corset, purple skirt, a pair of black gloves, patterned stockings and black heels with a ribbon. To make your dress look puffier, use a petticoat underneath the skirt.
Also, she now has blonde hair styled in twin tails using pink ribbons. She also wears a pair of black cat ears with pink accents.