Looking to cosplay Mei? Find the best costumes and accessories below!
Last update was on: December 4, 2023 3:13 pm
Mei Cosplay Costumes of 2023
Mei-Ling Zhou, or simply Mei, was a member of an ecopoint initiative established by Overwatch. She and her team were assigned to Antarctica. They carried on with their operations until a disastrous snow storm damaged the facility, leaving them stranded without any connection to the outside world. With very few resources left, they were forced to enter cryostasis while waiting for rescue.
9 years passed, but no one came to help. Mei awakened from her hibernation only to find out that her team members did not make it and Overwatch was now dissolved. These revelations left Mei feeling hopeless, but Winston's announcement to recreate Overwatch encouraged her to get back on her feet and head back to the organization.
With her handheld endothermic blaster, she travels around the world, examining abandoned eco-Watchpoints. She may be alone in her new venture, but she'll do whatever it takes to bring the world back to its natural balance. Mei's endothermic blaster is amongst the best Overwatch weapons. If you're fascinated by Mei's engineering capabilities, you might also find interest in characters like Tracer, who uses her Pulse Pistols and time-bending technology. Or, for another support hero who emphasizes healing, check out Mercy and her Caduceus Staff. For those interested in sniping capabilities similar to Mei's secondary fire, Widowmaker might catch your interest.
How to look like Mei?
Mei has brown hair tied up in a bun using a Chinese bun stick with an icicle pendant, and her bangs are swept on the right side.
Her brown eyes are doll-like, so a pair of good quality contact lenses will do the trick. Create a natural-looking winged eyeliner and apply false eyelashes for a perfect doll-eyed look.
She always wears her black rimmed glasses, but if you are concerned about wearing prescription glasses, you can use lensless glasses with similar looking rims instead. These are worn for aesthetic purposes and are perfect for cosplay.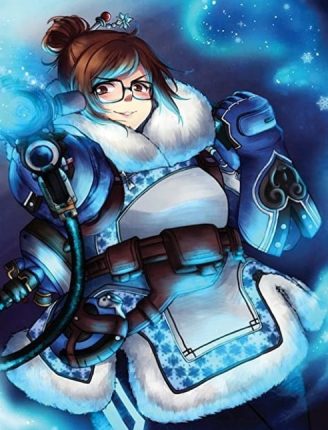 Mei Cosplay Buying Guide
We have here the best Mei Cosplay based on customer reviews. No need to worry about a one-size-too-small dilemma, we already prepared accurate information and sizing charts so you can have the perfect Mei costume!
Find The Best Mei
Costumes and Accessories
of 2023
Classic Skin
Mei wears a white winter jacket with fur hood and hem, with light blue and neon blue design on the edges. Her winter jacket looks similar to a qipao wherein the front has a slanted closure area instead of buttons. She also wears a pair of light blue gloves with a black decoration resembling a heart. Her dark blue pants are tucked inside her gray winter boots with fur lining. 
She wears a brown belt bag with several pouches. She carries Snowball, her drone assistant, on her back with a sling. A black hose connected to her blaster is attached to Snowball's container.
Honeydew Skin
In this skin, her hair is styled in a ponytail using a green tie with an orange ribbon. She wears a green sun visor and black round glasses. Her green blouse has a yellow collar and puffy sleeves with white frills. 
She also wears a pair of white gloves, yellow apron with a cartoon logo of a honeydew, ripped denim shorts, white socks with orange polka dots, and green sneakers with white soles. The best part of this costume? Snowball turns into a robotic honeydew! Her drone looks very adorable in its new green container. Looking for inspiration? We have a list of the Top 5 Mei Cosplayers for you to take a look at.