Last update was on: December 1, 2020 9:03 am
Kitana Cosplay Costumes of 2021
Discover your inner Kitana
One of the most iconic fighting game characters of all time, Kitana is best known for her blue mask and outfit, her dual steel fans, and her prowess in Mortal Kombat. If you wish to cosplay as the Princess of Edenia, then this guide should help you get the best Kitana cosplay.
Who is Kitana?
Kitana is the Princess of Edenia, the daughter of King Jerrod and Queen Sindel. She is 10,000 years old, which is considered young in Edenian standards. Shao Kahn then invaded Edenia and Kitana became his stepdaughter when he corrupted and took Sindel as his queen.
She would later free herself from his control and lead an army into Outworld to avenge Edenia and her father. Kitana would then ally with the warriors of Earthrealm, taking a special liking to Liu Kang. Through the different games, she has gone through some crazy stuff.
That would lead to the events of Mortal Kombat 11, wherein she would bring the peoples of Outworld to come together against Shao Kahn and become the new empress of Outworld before the timeline was thrown into disarray by Kronika.
How to Look Like Kitana
Kitana is mostly recognized for her blue outfit with the face mask. Other than that, she is slender, has delicate features, and straight black hair that she tends to put up in a bun.
Even though she's 10,000 years old, she looks like she's in her early 20s. She also tends to wear eye makeup at times, here's a tutorial! Her appearance has varied throughout the games due to having different models throughout the years.
Kitana has become one of the core characters in the franchise, making it an essential Mortal Kombat cosplay.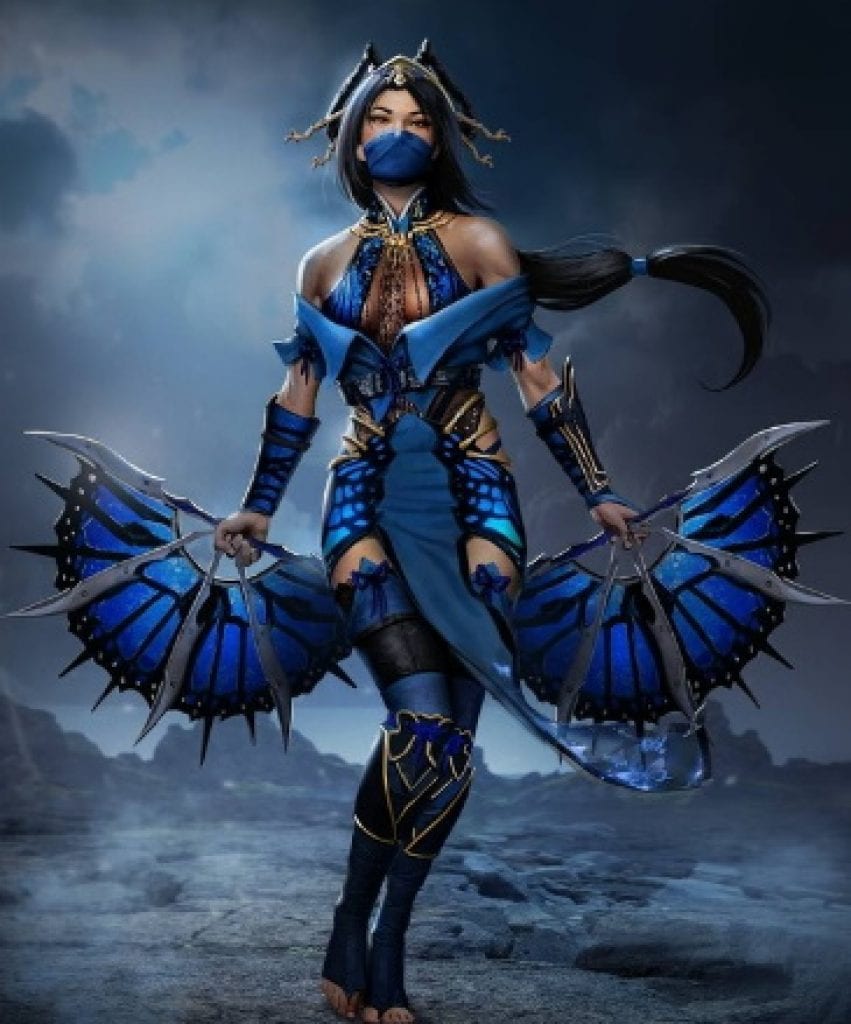 Kitana Cosplay Buying Guide
If you're looking to do this cosplay, don't fret. Here are some of the top Kitana cosplay out there, with the best price and highest quality available according to customer reviews. You're sure to find one that fits you just right as these items include accurate information and sizing charts.
Find The Best Kitana Costumes & Accessories
First Costume
Since the first two games were made on a budget, her first costume was just a palette swap, so she just wore a blue one-piece leotard and blue knee-high boots, along with blue elbow-length gloves, blue headband, and blue face mask. Her hair is let down in this version. Before you buy a long wig, take a look at these guides below for tips on wig care.
Ultimate Mortal Kombat 3 Costume
In this update, she puts her hair up in a bun for the first time and a laced opening in the middle of her blue leotard. She no longer wears the headband from the first game and keeps her forehead bare. Her gloves have also been shortened.
Deadly Alliance Costume
Starting in Deadly Alliance, she wore a blue leotard and blue high-heeled boots, both with black trim and fairly similar to her previous costume. Her hair is also kept in a waist-long ponytail instead of a bun.
She also wears a more regal alternate costume in the form of a lavender leotard with a deep V-neck that shows her cleavage. That regal costume is coupled with a lavender thigh-high boots, brown belt, and gold ear drops.
Her dual steel fans are also featured more prominently in these newer games.
Mortal Kombat 9 Costume
In MK9, she wears a short halter top in light blue and silver trim, which has the laced opening in the middle and a split at the bottom of her ribs. This is coupled with a matching thong and a long flowing loincloth. Along with her signature face mask, they all have elaborate patterns in a lighter color. Kitana also wears a coronet, boots, silver ear drops, and bracers.
Mortal Kombat 11 Costume
The latest version of her costume trades the leotard for black-and-blue armor with an opening that shows her middle chest area and cleavage, as well as her middle back with straps in an X pattern. Around her waist is a black-and-blue corset, followed by tight black-and-blue pants and boots, as well as elbow-length fingerless gloves. Her blue headband is back, and her hair is put up in a bun, combining the looks from MKII and UMK3. 
Still unsure which version to go for? Check out this list of the best Kitana cosplays for ideas!