Find the appropriate bits and bobs below to complete your Rogue cosplay! 
Last update was on: December 4, 2023 3:13 pm
Rogue Cosplay Costumes of 2023
Discover your inner Rogue
Who is Rogue?
Dubbed as the X-Men's Southern Belle in the skies, Rogue is a mutant born with the ability to absorb the powers and memories of others via physical contact. She ran away from home after unintentionally putting a boy named Cody Robbins in a coma, discovering her powers for the first time. She was taken in by Mystique and became a member of the Brotherhood of Mutants, whose aim was for mutants to be superior over normal humans. 
During her time as a member, she clashed with the Avengers, particularly Carol Danvers, also known as Ms. Marvel. She absorbed her powers but due to Ms. Marvel being too strong, the transfer became permanent. Despite gaining Ms. Marvel's strong abilities, Rogue was unable to gain control and eventually defected to join X-Men and asked Professor Charles Xavier for help.
One touch is all it takes for Rogue to absorb any superhuman's ability and memories. Her encounters with superhumans and mutants have given her tremendous powers, but it often comes with a price. If you're planning to create an awesome Rogue Cosplay, then this is the perfect guide for you!
How to look like Rogue?
Rogue has various style changes, from curly hair to straight to a short bob, but the white streaks of hair on her fringe area is a constant. In the movie, she gained these white streaks during a battle with Magneto. Her hair started to lose color when her powers were being absorbed by Magneto's machine. In real life, having a white streak of hair while maintaining your natural hair color is called poliosis. View our guide on how to put on a wig for tips and tricks!
She has green eyes and often wears red lipstick in the comics. However, she adopts goth fashion in X-Men: Evolutions and wears purple eyeshadow and lipstick. Since green eyes are the rarest eye color, you may want to buy a pair of green contact lenses to achieve the ultimate look. You can check out our guide on how to put contact lenses in safely.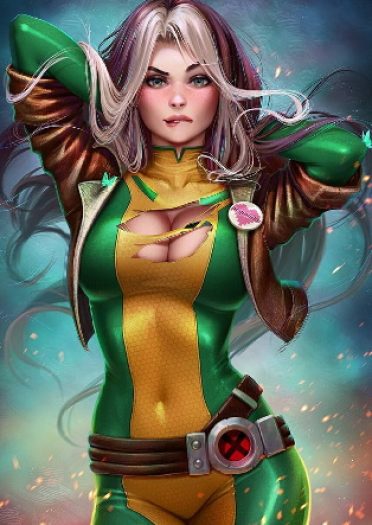 Rogue Cosplay Buying Guide
We prepared the top Rogue Cosplay and chose the best ones according to customer reviews. Worried about a size that won't fit? We prepared accurate sizing charts and information for your reference, so you can get the perfect costume for the convention.
Find The
Best Rogue Costumes & Wigs of 2023
Rogue in the Comics
Rogue has worn several renditions of her X-Men uniform, but the widely known version is her bright yellow-and-green full bodysuit. The yellow part of the suit covers the middle section of her upper body down to her inner thighs, while the green part covers her arms, legs, and the outer section of her upper body. She wears a pair of yellow knee-high heeled boots, with two green stripes. She wears a brown leather jacket and a pair of yellow gloves. She also wears a green bandana and lets her long curly hair loose. X-Men logos can be seen in her belt buckle, left side of her chest, and on the shoulders of her leather jacket.
X-Men Evolution Costumes
Rogue is portrayed as a goth teenager and often wears dark colors for her casual clothes. In the first season, she wears a dark green, half-body tank top over a green, long-sleeved, see-through silk blouse. She also wears a black mini skirt, black stockings, and black platform boots with green straps. She sometimes wears a dark brown trench coat over her outfit.
Her X-men uniform is a black bodysuit with a green section on her chest, a pair of brown gloves and black boots. Her yellow shoulder guards and belt have X-Men logos embedded on them. 
Enjoy the strong, independent women of the Marvel universe? After you've experienced Rogue, make sure to fly over to our Captain Marvel and Black Widow cosplay pages.