Starfire Cosplay Costumes
Other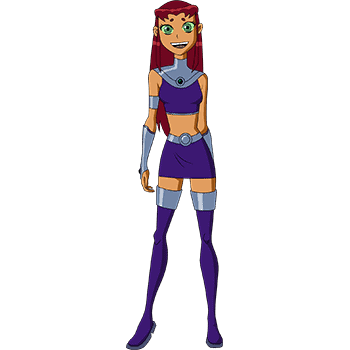 Let's take a look at who Starfire is and what it takes to cosplay her.
Last update was on: September 23, 2023 7:32 pm
Starfire Cosplay Costumes of 2023
Discover your inner Starfire
The alien princess of the Teen Titans, Starfire is both beautiful and powerful. She has a distinct look, a sweet personality, and cool superpowers, so what's not to like about this red-haired high-flyer? Let's take a look at who Starfire is and what it takes to cosplay her.
Who is Starfire?
Starfire, born as Princess Korland'r, is a founding member of the Teen Titans, along with Robin, Raven, Cyborg, and Beast Boy. She was raised on the planet Tamaran before arriving on Earth. Tamaraneans have abilities that are fueled by their emotions. Because of this, Starfire is naturally the most sensitive member of the Teen Titans.
Being from a different planet, not to mention of royalty, she is effectively a fish out of water on Earth. This makes for some hilarious situations where she has to deal with the customs of Earth that are still quite foreign to her. She is a cheerful and sweet girl, albeit also naive and insecure. She also tends to use Tamaranean words to describe new things she encounters on earth.
Among all the Teen Titans, she cares about friendship the most. She never had real friends apart from her adoptive father before arriving on Earth, so she tries her best to be friends with everyone she meets, as well as make sure everyone gets along.
While naive in the ways of planet Earth, she is perceptive when it comes to what people may be thinking, especially with her eventual love interest, Robin. Over time, the Teen Titans become virtually inseparable, and Starfire can be seen as the heart of their group.
How to Look Like Starfire
Starfire's most distinct physical features are her slender figure, bright orange skin, large green eyes, small rounded eyebrows, and waist-length red hair. While she may look quite humanoid, her physiology is very much alien. She has a long violet tongue and nine stomachs. How she's able to contain all of that inside her slender body, that's left to mystery.

Starfire Cosplay Buying Guide
One good thing about the Starfire cosplay (or bad, depending on your preferences) is that her look stays relatively consistent throughout the animated series. It's her most popular incarnation, and it's the one most talked about when it comes to cosplaying here.
Find The Top Starfire Costumes of 2023
Regular Starfire Costume
Her usual outfit consists of a sleeveless violet crop top, violet miniskirt, silver belt, and thigh-high violet boots with silver bands on top and silver soles. They're combined with a silver gorget embedded with a round green gem  in the middle, as well as silver gauntlets with green gems on the backs of her hands, and a silver armband on her upper right arm.
Prom Dress
In the episode "Date with Destiny," she wears a light purple long dress with light purple high-heeled pointed shoes and light gray long arm sleeves. She's also shown holding a light pink rose in her hands.
Teen Titans Go! Costume
In the Teen Titans Go! Prequel, before the Teen Titans actually came to be, Starfire was a new arrival on Earth. She still wore a set of armor which looks like a battle version of her usual outfit.
It's basically a darker purple version of her regular outfit, but with the usually uncovered parts of her body now covered with dark gray armor, and the gorget is now also flanked with silver shoulder plates. Her head and face is framed by a silver helmet that covers her forehead and sides of her face.