Cammy Cosplay Costumes
Video Games

Ready to cosplay Cammy? Here lie our top favorite costumes and accessories!
Last update was on: September 23, 2023 8:11 pm
Cammy Cosplay Costumes of 2023
Discover your inner Cammy
Who is Cammy?
Cammy White, also known as Killer Bee, is a clone originally created to become M. Bison's next body. She was unaware of this setup, until she had a run-in with Dhalsim and Vega who revealed that the criminal organization Shadaloo was controlling her all this time. M. Bison confirmed this and revealed a part of his Psycho Power is already added within Cammy.
Throughout her journey, she encountered teenage girls called Dolls who were kidnapped and brainwashed by M. Bison to work for him. On another mission, she is confronted by Decapre, a Doll who looks like her, and turns out to be the "first clone" in which Cammy was created from. She freed the rest of the dolls from Shadaloo's control and destroyed their base, making sure that the organization will never lay their hands on them again.
Whether she is Killer Bee or a Delta Red member, Cammy is undeniably a tough girl with a no-nonsense attitude. She started on the wrong path, but her strict sense of justice allowed her to right her wrongs and accept her grim past. If you want to create the best Cammy Cosplay, then keep reading our guide to nail her costume.
How to look like Cammy?
Cammy has blue eyes and a scar on her left cheek. She has long blonde hair styled into two braided pigtails. While the rest of her hair is pulled tightly away from her face, a large forelock hangs loosely at the front. Custom Cammy wigs are available on Amazon, but if you have a long blonde wig, her hairstyle can be easily achieved. Use hairspray to help keep the forelock stay in place.
Long wigs are difficult to maintain, check out our guides down below before purchasing!

Cammy Cosplay Buying Guide
We have here the best Cammy Cosplay according to customer reviews. Worried about a drooping costume or a rigid bodysuit? We prepared accurate sizing charts and information beforehand because we know that a superb Cammy Costume requires the perfect fit.
Find The Top Cammy Costumes & Acessories of 2023
Killer Bee Outfit
Cammy wears a light blue, long sleeved, turtleneck thong leotard with a small yellow necktie and an opening which exposes her upper back. She also wears a blue garrison cap, brown leather boots, and red gauntlets.
The difference of her uniform from a Shadaloo Doll Uniform is the color. The shade is lighter and she's the only one among the girls to have it in this color. She also bares her legs with the addition of a lightning bolt design on her thighs, instead of wearing tights. You can either apply the markings directly to your skin or on a skin tone pantyhose (which is a safer option to avoid accidental leotard slip ups).
Delta Red Costume
Cammy wears a green, sleeveless, turtleneck thong leotard with a Delta Red insignia on the right side of her chest. She also wears a military red beret, a pair of red mid calf socks, black combat boots, and red gauntlets.
Her legs have splotches of green camouflage paint. Again, you can either apply the design directly to your skin or on a skin tone pantyhose.
In Street Fighter V, she loses the camouflage paint on her legs and is replaced with a gun holster on her right thigh. She also wears a black harness on her torso. Think you're the ultimate Street Fighter fan? Check out these 15 things you didn't know about Street Fighter.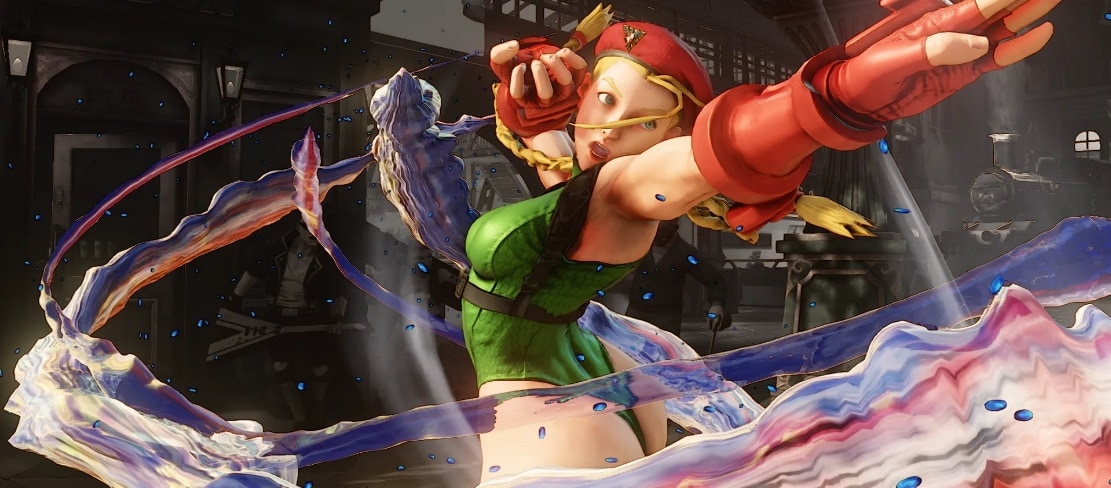 Love the military-inspired look of Cammy? Be sure to explore other strong female characters in our lineup, including Lara Croft, Tifa Lockhart, and Chun Li.