Spider-Man Cosplay Costumes
Marvel/DC

Stand out amongst the crowd with one of our best Spider-Man costumes!
Last update was on: September 23, 2023 6:11 pm
Spider-Man Cosplay Costumes of 2023
Discover your inner Spider-Man
Spider-Man is one of those few Marvel superheroes that has a huge variety of costumes. In fact, comic writers decided to make "spider-verse" a thing wherein multiple Spider-Man from all multiverses exist! Yes, we literally mean all including an ultra cartoon version of the web-slinging superhero, Spider-ham. Check out this list of every version of Spider-Man ranked from weakest to most powerful.
Who is Spider-Man?
Everyone knows who Spider-Man is. Even non-comic book readers know him. This is thanks to multiple adaptations of the character. From comic books, to cartoon series and 3 iterations of Spider-Man on the big screen. However, most people only know 1 Spider-Man and that is the Peter Parker version.
Believe it or not almost all Spider-Man characters were born the same way. They were somehow bitten by a spider before developing spider-like traits such as the ability to walk on walls, a precognitive sixth sense famously referred to as his "spider-sense" or "spidey-sense" and most importantly his superhuman speed and agility. How about those webs? Spider-Man does not produce those webs naturally. Instead he uses different mechanical devices to shoot those web strings.
Spider-Man is not only known for his superpowers but also a big part of his popularity is because of his traits. He is mostly an independent character, he usually works alone although being a core member of the Avengers and later on the Fantastic 4. This is not because he is antisocial, but rather he hates being micromanaged. He also talks a lot and is a great counter partner for the anti-hero Deadpool and even the non-talkative Wolverine. He's an extrovert and he even developed a trademark sense of humor where he usually uses humor to diffuse a scary or awkward situation, which is classic Spidey.
If you wish to know more about achieving the Spider-Man look then read on.
How to look Like Spider-Man
Donning the classic Spider-Man costume is one thing but if you really want to be like him, you have to know first what Spider-Man costume will you go for. Yes, the classic red and blue spandex may be the easiest one to get but come on, who wants to be like everyone else right?
To be Peter Parker, you have to work on the type of costume you'll need. Work on costumes with actual textures and not just a plain old spandex. You'll also need to get a mechanical web shooter. You can purchase one or make your own with this fantastic Spider-Man web shooter tutorial. And Lastly, work on the classic Spidey poses.

Spider-Man Costume Buying Guide
Spider-Man has numerous costumes available but we will only be discussing the more famous costumes and this includes costumes from alternate universes.
Find The Top 6 Best Spider-Man Costumes of 2023
Spider-Man 2099 suit
This is a futuristic take on the costume. The suit is primarily blue with thick red webbings. He also has a semi transparent glider cloth between his arms and body and also on his back flowing like a torn cape.  However, the most notable part of his costume are the two red blade-like attachments under each of his forearms primarily used as a weapon.
Homemade Spider Suit (Spider-Man homecoming)
The third iteration of Spider-Man on the big screen was a very big success thanks to Disney co-owning the rights with Sony Pictures.
His suit is one of the easiest to achieve. It features a red sleeveless zipped up hoodie with a black spider logo stitched on the chest area, a blue undershirt, red boots and a bracelet web shooter. The entire head is covered in a tight red cloth with mechanical black eye lenses.
Iron Spider Suit
This is the most elegant and stylish costume specifically altered for the Avenger: Infinity War movie.
The suit looks like a thin body hugging metal in navy blue, red and gold. The most notable part of the costume are the gold mechanical spider arms protruding from his upper back. He also has gold bracelets for his web shooters.
Ultimate Spider-Man Suit
This is a cooler version of the classic blue and red spandex. The costume is donned by Peter Parker himself with a textured spandex in navy blue and red with thin black webbings. The suit also dons a small spider logo on his chest and the eye part is white with black linings.
Spider-Man can be played by all ages and genders, for some of you with long hair, you might want to wear a wig cap to neatly hold your hair back whilst in the Spidey costume 🙂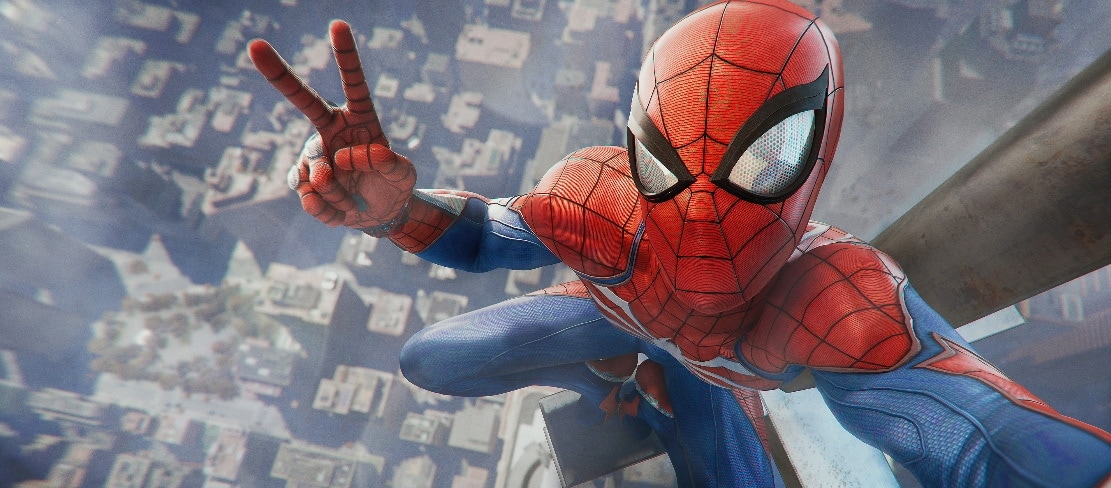 If you find yourself swinging from building to building with Spider-Man's acrobatic finesse, you might also enjoy scaling the walls of responsibility and youthful exuberance with Miles Morales. Or maybe you'd be interested in Black Widow's similarly acrobatic but far more lethal approach to crime-fighting. And don't forget Deadpool, who, like Spidey, understands that humor can be a hero's greatest weapon.