Triss Merigold Cosplay Costume
Other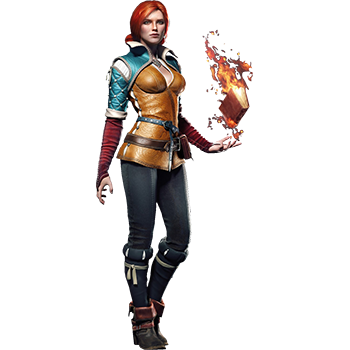 Tries Marigold's striking appearance, versatility in combat, competence in court, and compassion in person make her a great character to cosplay.
Last update was on: September 23, 2023 4:12 pm
Tries Merigold Cosplay Costumes of 2023
Discover your inner Triss Merigold
The fearless red-headed mage combines beauty, brains, and battle readiness in one amazing package. Triss Merigold is one of the most significant characters in The Witcher series, as well as in pop culture as a whole. Her striking appearance, versatility in combat, competence in court, and compassion in person make her a great character to cosplay.
Who is Triss Merigold?
A sorceress from Temeria who would carve out her own legend, Triss Merigold is a red-haired wielder of magic who is reputed as sharp and fearless. She is a member of the royal council of King Foltest, as well as a founding member of the Lodge of Sorceresses. She is both an adventurer and a politician, having dabbled in both throughout her life.
Triss is good friends with Yennefer and the witcher Geralt of Rivia, although she is also in love with the latter, rather unfortunately. It's a love triangle that has Triss ultimately on the losing end of things. Whenever Geralt has trouble with Yennefer, he turns to Triss. She is a dependable woman, albeit emotionally burdened as well.
She took care of Ciri at Kaer Morhen, serving as a surrogate older sister to her. Because of her intervention, Ciri was not subjected to the harmful hormone changes in becoming a witcher. Her competence and knowledge in what Ciri was a great help during that time, making sure that the new witcher didn't end up going too far off the deep end.
Triss is a versatile magic user who can both heal and fight skillfully. She is a maker of many magical potions, although she can't use them herself due to having an allergy to them. She instead has to use amulets to heal herself whenever she's hurt in battle. Her utility and intelligence make her invaluable in any adventuring team.
Triss Merigold Cosplay Variations
Triss Merigold cosplay can be a bit complicated as she has had at least three looks spanning three games, as well as her totally differenat Netflix version. We shall focus on the Triss Merigold costumes from the games.

How to Look Like Triss Merigold
Triss Merigold's most distinct physical feature is her bright chestnut red hair tied to a bun. In the video game, Triss has light skin and blue eyes to go with her red hair, while she has dark hair and brown eyes in the Netflix series. The video game version of Triss is the more distinguishable one, while the Netflix version is the more novel choice.
While the difference in physical appearance may make both versions feel like different characters entirely, their shared personality and their association with the protagonist Geralt are what truly define their character. However, it does matter that video game Triss gets a lot more screen time than Netflix Triss as the former accompanies Geralt for much of all three games, while the latter only appears for some portions of one season of the show so far.
Find The Best Triss Merigold Costumes & Wigs of 2023
First Costume
Her first outfit has her red hair tied in a ponytail, a brown bolero over a white tunic underneath a white bodice with green stripes and bindings, along with green arm sleeves and leather fingerless gloves with three leather straps each.
Around her waist is a belt with two leather pouches, which hold up brown pants with a green strap with a holder for two vials of potions on her left thigh. Under that are knee-high leather boots with blue fabric straps to keep them tight.
Wild Hunt Costume
Her main outfit changed in the third game to a more distinct and identifiable look. She now wears a teal bolero over a tan leather shirt and red sleeves. Around her neck is her medallion.
The bolero is fit in place with a strap, and the leather shirt is her black pants are fixed in place with a red leather belt, which also has a leather pouch on the left side. On her legs are dark green leather greaves, and a pair of leather boots.
Alternative Costume
Her DLC outfit in the third game is quite the looker. It's a revealing green dress with a vine motif which shows off her cleavage and some of her midriff, and the only thing keeping it from revealing her unmentionables is a short white underskirt.
Her arms are covered by light brown arm sleeves, also with the vine motif. She is barefoot in this outfit, with only unique-looking leggings covering her lower legs and some of her insteps. She also wears a small purse on her right hip. Around her head is a circlet, and around her neck is an ornament with a leaf motif.