Nezuko
Cosplay Costumes
Demon Slayer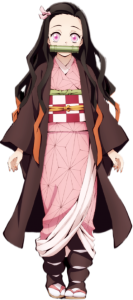 Stand out amongst the crowd with our best Nezuko costumes and accessories!
Last update was on: September 23, 2023 4:12 pm
Nezuko Cosplay Costumes of 2023
Discover your inner NezukoOne of the biggest anime debuts in 2020 was the Demon Slayer. Nezuko is Tanjiro Kamado sister. She easily stands out in the anime because she can transform into a demon. The transformation entails growing in size, getting sharp fangs, growing out claw-like nails, and her eyes turning dark pink. If you're looking to do a Nezuko cosplay, then this is the perfect guide for you.
Who is Nezuko Kamado?
Nezuko is the younger sister of Tanijiro Kamado. Together, they make up the last two remaining members of the Kamado family. She was formerly human until she was attacked and turned into a demon by Muzan Kiutsuji.
She isn't an ordinary demon because she contains her human consciousness even in her demonic state. She also revitalizes her energy by sleeping instead of relying on human blood.
She has superhuman strength and adapts to anything that surrounds her. She continuously grows after each battle, especially when she uses her Exploding Blood Demon Art ability.
Her family works in the charcoal business and this means they work using a lot of fire. The fire element has become a major element for Nezuko throughout the anime series as her Exploding Blood Demon Art is based on this element, where her blood instantly turns into a fire outside of her body. Her flames are pink in color.
Nezuko's name is connected to her home where her family lives. They live in the snowy mountains and in Japanese, the partial translation of her name means snowball flower. This flower can be found during the winter, the season mainly shown in the series.
How to Look Like Nezuko
Nezuko is famous for her soft pink eyes that appear lighter around the rims of her irises that match her pink kimono perfectly. She has visibly large prominent fangs, sharp-claw-like nails that fade into a red color. She has long straightly-crimped ridge black hair that falls below her waist and turns into a vermillion color from her elbow down.
Her pink kimono has a hemp leaf pattern with a paler pink lining and a white and red checkered obi. A thin orange thread is knotted and looped around her waist with another band of green above it.
Her human appearance is very similar to her demonic state, the only difference is that when she is in her human form, her hair is all black and is tied in three low buns which are decorated with pink ribbons. Her eyes are also colored in dark red with her lower irises colored in pale pink. Both her human and demonic eyes can be achieved with contact lenses.
Nezuko Cosplay Buying Guide
With so many Nezuko cosplay in the world right now, here's the top Nezuko cosplay with the best reviews from customers. We ensure that these items have the most accurate information with the proper sizing charts so you can purchase costumes that would fit you perfectly.
Find The Top 3 Nezuko Costumes of 2023
Anime Costume
Nezuko always wears her thick dark brown haori jacket reaching just below her knees which she wears over her pink kimono. She wears pink zori sandals and white socks that are wrapped with thick black clothing material. She also wears a pink ribbon tied to the left of her head and a bamboo gag which is secured around her jaw, strapped with a thin strip of red cloth.
If you're captivated by Nezuko's unique blend of vulnerability and strength, you may also enjoy stepping into the roles of her brave brother Tanjiro, the fearless Inosuke, or even the electrically charged Zenitsu.