Let's take a look at what it takes to cosplay as one of the most popular anime characters in recent years.
Last update was on: December 4, 2023 5:10 pm
Makima Cosplay Costumes of 2023
The main antagonist of the Chainsaw Man series is Makima. She begins the Public Safety Saga as a key protagonist before becoming the main antagonist of the Gun Devil Arc, where she unveils her real nature, and the titular main antagonist of the Control Devil Arc, Part 1's concluding arc. In the Academy Saga, the second installment of the story, she will most likely be a posthumous antagonist.
Who is Makima?
Initially acting as a supportive accomplice to the protagonist, Denji, by taking him under her wing and raising him as a pet, she is also the leader of the Public Safety Devil Hunter organization who tried her hardest to make Denji's life happy to the point where he tried to find another purpose in life and become a happier person than he was in the past due to the suffering he had experienced during his childhood days.
Despite this, Makima has done some morally ambiguous things for the greater good throughout the story, such as hurting Denji if he disobeyed, using blackmail to get what she wants, and so on, while also possessing several inhuman traits, such as resurrecting herself from her assailant even if she was murdered, or defeating a primal devil by simply wounding him. She turns out to be something far worse as the story progresses.
Around Chapter 75, it was revealed that Makima is a powerful and omniscient devil as old as human history known as the Control Devil, who has been feared by human beings for centuries as several other nations, including the United States, attempt to flee her grasp in order to prevent her from bringing the world's worst kind of peace. Furthermore, it was discovered that her persona as a caring figure who Denji admired was not what it seemed.
At the end of the day, Makima was exposed to be nothing more than a crazed fangirl who sees making the world a better place as a secondary goal as she tries to get Pochita for herself while planning on living happily ever after. She was ultimately vanquished after grossly underestimating the person she regards as a potential stumbling block to her goals at worst and a mere lapdog at best.
How to Look Like Makima
Makima first appeared to be a woman of otherworldly beauty in her early to mid-twenties, with braided light brownish-red hair, eye-length bangs, and two longer side bangs framing her face. She also has odd golden eyes that resemble those of a cat, as well as swirly pupils to go with them. She maintains a calm and controlled expression on her face the majority of the time to convey that she is serious about her work.
Makima, like the other Devil Hunters, wears a black executive suit with a white shirt and black tie tucked inside, and she occasionally takes off her businessman coat. Makima wears a nearly unbuttoned white jacket with a black dress inside, long black stockings, and a high heeled shoe in her casual ensemble. Pochita imagines herself in pristine white undergarments with Reze.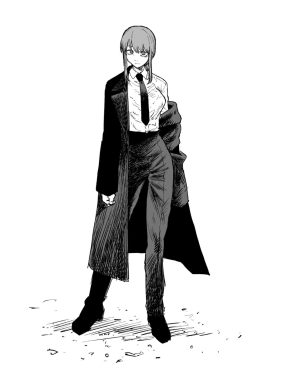 Find The Best Makima Costumes of 2023
During her first appearance, Makima was portrayed as the manga's ostensibly Big Good, saving Denji from his hellish life and attempting to make him happy by coddling him and even making a companion just for him in order to form a rather large and strong family that was integrated together, while Makima acts as a motherly figure or an actual ideal girlfriend towards Denji. Makima's motherly figure may be seen when she tries to cheer up Denji by inviting him out on a date to see a movie or allowing him to remain at her house after he fell asleep on a park bench. Makima also demonstrates that she is a dog person by having multiple pets in her apartment.
Makima cosplay buying guide:
It's rather easy cosplaying as Makima regarding clothing and style. You can either do it yourself and dye your hair a pinkish light-brown or the easier method: buying a wig. Makima is a lovely young lady who appears to be in her twenties. She normally wears her hair down in a loose braid with two longer side bangs framing her face and bangs that grow a little past her eyebrows. Her eyes are bright and have a red ring around them.
For the outfit I'm sure you can find a good deal in your local clothing store for a white polo, a black tie and slacks. You can also buy the suit coat but if you want to go all out you can have it tailor-made for you but a generic one would work just as fine.
Drawn to powerful, commanding women? After experiencing Makima, be sure not to miss our Sailor Moon and Megumin cosplay sections.