Megumin Cosplay Costumes
Other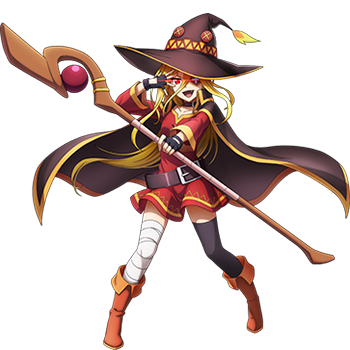 Let's take a look at what it takes to cosplay as Megumin, the explosion mage.
Last update was on: September 23, 2023 8:10 pm
Megumin Cosplay Costumes of 2023
Discover your inner MeguminDo you like explosions? Do you also like looking cute? If you answered yes to both questions, you're in luck as there's a perfect cosplay for you. Megumin from KonoSuba is the ultimate glass cannon mage, able to turn enemies into smithereens with one explosion spell. However, she can only cast one per day, making her a one-shot deal. Let's take a look at what it takes to cosplay as Megumin, the explosion mage.
Who is Megumin?
Megumin is an Arch Wizard of the Crimson Demon Clan in the Fantasy World. She is also the first person to join Kazuma's party and one of the main characters in the KonoSuba series. Megumin has a flair for theatrics, touting her powers in explosion magic at every chance she gets. She puts all of her stats into her one explosion spell, treating all other magic as useless.
Despite posturing herself as an incredibly powerful wizard, Megumin is actually childish and immature in person. She gets visibly perturbed whenever her age and underdeveloped body is mentioned, and she maintains a petty rivalry with Yunyun, her old classmate, even if she secretly sees her as a friend. It's like she's always compensating for her perceived inadequacies. However, whenever in a desperate situation, she cracks immediately.
While she does have her shortcomings, Megumin seems to have the most common sense in the group, as acknowledged by Kazuma. Then again, that's not hard with a party leader who's in over his head, a goddess who's also quite an airhead, and a paladin who's actually a masochist. But when the going gets tough, they could always rely on her to cast Explosion to destroy whatever is in their path, even though she can only do it once.
How to Look Like Megumin
Megumin's most distinct physical feature is her shoulder-length dark brown hair and crimson eyes. Compared to her classmates on Crimson Village, her body looks like that of a child. This is a major source of her insecurities, which is why she's so focused on her explosion magic.
She tends to come off as loud and boisterous, as well as having eccentric tendencies. She also tends to have little to no restraint when it comes to her explosions, even if casting one usually leaves her unconscious on the ground due to fatigue. It's like a female wizard's version of a Napoleonic complex. Because of this, no one else would have her join their party other than Kazuma.

Megumin Cosplay Variations
The Megumin cosplay is fairly easy as she's only seen in one outfit throughout most of the series. While there may be another Megumin costume seen on promotional media, her regular outfit is the only one that truly matters when it comes to cosplay.
Find The Top Megumin Costumes & Wigs of 2023
Main Outfit
Staying true to her occupation as a wizard, Megumin wears a classical witch attire composed of a black cloak, red robe, orange boots, and black wizard's hat. All of them have gold borders and trimmings. She also wears a black choker, belt, and fingerless gloves. Her right leg is wrapped in white bandages while her left leg has a black stocking. Her main piece of equipment is a brown staff with a floating red gem, with which she casts her explosion spell.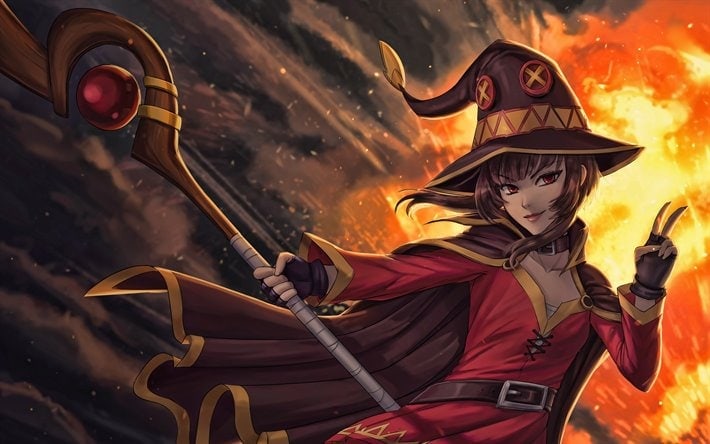 If you're spellbound by Megumin's explosive personality and magical prowess, you may also find yourself enchanted by the mischievous and equally powerful Elf characters. For more captivating female leads, Raphtalia and Violet Evergarden offer different takes on strength and character development.