Hisoka Cosplay Costumes
Other

Let's take a look at what it takes to cosplay as Hisoka.
Last update was on: September 23, 2023 7:10 pm
Hisoka Costumes of 2023
Discover your inner HisokaHisoka is one of the most complex characters in anime. You never truly know whether he's an ally or an enemy at any given time, and he usually subverts expectations regarding his motives and decisions. Let's take a look at what it takes to cosplay as Hisoka.
Who is Hisoka?
Hisoka Morow is a Hunter and former member #4 of the Phantom Troupe (also known as Spider), being the third physically strongest member in the group. He left the group due to his self-interests clashing with the goals of the group.
He is amoral and only cares about achieving his goals and fighting strong opponents. He does tend to spare opponents who show great potential, like he did with Gon and Killua, hoping that they become strong enough down the line to actually give him a challenge.
Hisoka served as the primary antagonist in the Hunter Exam arc and the Heavens Arena arc, then became a supporting character in the Yorknew City arc and the Greed Island arc. He then became a secondary antagonist in the 13th Hunter Chairman Election arc.
With an insatiable love for spilling the blood of powerful opponents and inflicting extreme pain, Hisoka is portrayed as self-centered and manipulative. There's no other rationale for his actions other than what's fun or beneficial for himself.
How to Look Like Hisoka
Hisoka's most distinct physical feature is his colored hair that's styled to stand up and his clown aesthetic, sporting the appearance of a circus magician or jester. He is tall, has light skin, and a wiry, muscular physique. He wears face paint, usually consisting of a star and a teardrop.
His attire tends to have symbols you'd find in playing cards, showing that his character design may be inspired by the joker card. That's then backed up by his chaotic neutral nature, being a wildcard in just about any situation he's in.
He also tends to have his nails grown long and pointed, giving his hands a claw-like appearance, which adds to his sinister nature.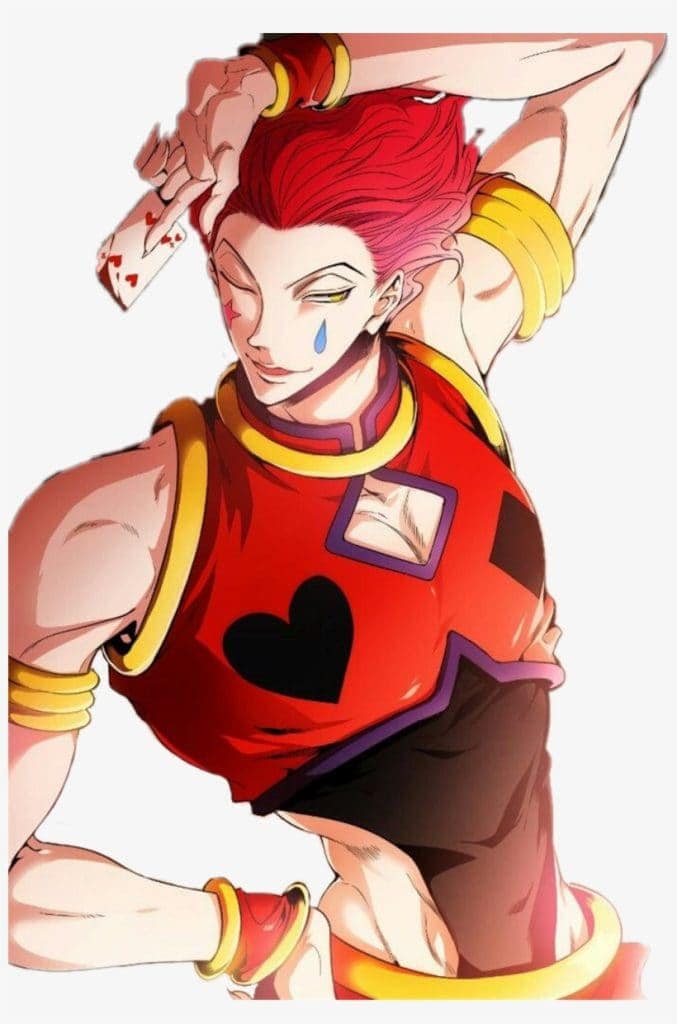 Hisoka Cosplay Variations
Hisoka cosplay only has two different variations of the Hisoka costume. What's important here is that the overall look you achieve gives off that jester vibe that Hisoka is meant to portray.
2011 Version
This newer version of Hisoka has red hair and light amber eyes. His outfit would change colors throughout the 2011 anime, but the overall motif remains the same.
He wore a sleeveless top with a gold collar and cuffs, along with card symbols on the chest, either a heart and diamond or a spade and club. Below that are white pants and black pointed shoes. He wore rings around his neck, upper arms, waist, and ankles.
Find The Best Hisoka Costumes & Accessories of 2023
He would occasionally change his face paint and wear different jewelry throughout the 2011 anime, like the Greed Island Ring on his left middle finger during the Greed Island arc and ornamental heart earrings during the 13th Hunter Chairman Election arc.
1999 Version
In his first appearance, his hair was blue. That was then changed to a red or neon pink color to coincide with the anime. However, during the Yorknew City arc in the manga, he dyed his hair light green. This ever-changing appearance is meant to illustrate the complexity and unpredictability of his character.
The overall theme of his outfit remains the same as with the 2011 version, but he wears a short-sleeved shirt and has a yellow scarf wrapped around his waist. Both his shirt and pants are of the same silver color, and his pointed shoes are purple.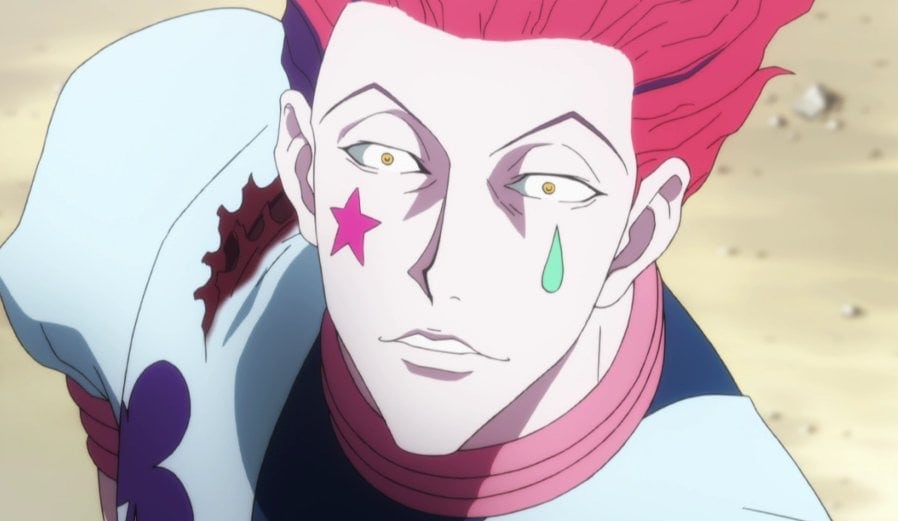 If Hisoka's flashy, flamboyant style caught your eye, don't miss out on the equally eye-catching designs of Astolfo, Raphtalia, and Sailor Moon.