Death Note Cosplay Costumes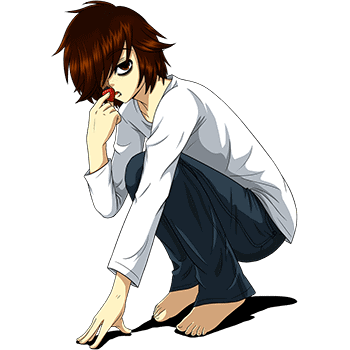 Let's take a look at what it takes to cosplay as the characters of Death Note.
Last update was on: December 4, 2023 4:12 pm
Death Note Cosplay Costumes of 2023
Discover your inner Death Note character
Death Note is one of the most striking series in all of anime and manga due to its themes and real world setting. Also, its story is mostly told through the perspective of who is supposed to be the antagonist, giving it a unique narrative that makes people relate with the character who is supposed to be the bad guy. Let's take a look at what it takes to cosplay as the characters of Death Note.
Who is Death Note?
Death Note is a series that follows Light Yagami, a teen prodigy who comes across a Death Note belonging to the Shinigami (Death God) Ryuk. It grants its user the supernatural ability to kill anyone whose name is written on it. This leads Light to become a vigilante from afar, taking up the name "Kira" to serve as judge, jury, and executioner upon all who are immoral and corrupt. He seeks to create a crime-free utopia by taking out evil, one name at a time.
Not all is well as all the shocking deaths pique the interest of an elite police task force, led by the enigmatic detective L, who seeks to find the man behind Kira and apprehend him for the deaths of everyone whose names he has written on the Death Note. Thus commences a grand battle of wits, with Light doing his best to stay ahead of L while continuing his crusade against the unjust with the Death Note while Ryuk looks on.
How to Look Like Death Note Characters
The three major Death Note characters we're going to take a look at here have very distinct character designs that don't only set them apart, but also convey their themes and personalities.
Light Yagami is a young man of above average height with light-brown hair and brown eyes. He doesn't seem too extraordinary, but he does tend to wear a tan suit and red tie, giving off an aura of dignity. While he also often dresses casually, he starts wearing a suit more and more as the series progresses. It conveys how serious he is in his crusade.
L is pale, tall, and lanky with messy neck-length black hair and black eyes, as well as black under his eyes. He is an insomniac and tends to eat a lot of sweets to fire up his brain. He also tends to go barefoot, even while in public. He also sits by squatting, even on couches. This shows him as an eccentric who is both a disheveled recluse and a brilliant detective.
Misa Amane is a short and slender young woman with long, straight, golden-blonde hair that's usually worn in pigtails with red bands. Her appearance conveys an outgoing personality, even to the point of being childish, but there's also an adult woman underneath it. Most would take her for an airhead, and she does act like it. But she does show surprising intelligence in various moments, showing that she has the capacity to be cunning and manipulative.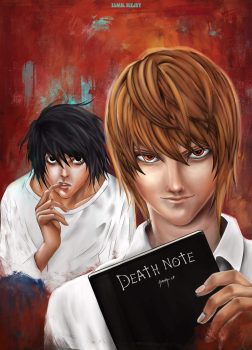 Death Note Cosplay Variations
Death Note cosplay with these three characters is not difficult at all since they're wearing clothes that are easy enough to find in the real world. Perhaps the most difficult Death Note costume here is Misa Amane since she does tend to change outfits throughout the series, so we'll focus on the most recognizable ones.
Light Yagami
He is actually the antagonist in the series, but much of the series is shown from his perspective. As mentioned, he tends to wear a tan suit with a tan jacket and brown (sometimes dark green, sometimes black) pants, black belt, and black shoes.
He also sometimes wears a black suit, black shirt, or black long-sleeved V-neck. But the tan suit is his signature look.
The Best Death Note Costumes and Wigs
of 2023
L
The world's greatest detective looks the farthest from his title. He usually wears a long-sleeved white shirt and blue jeans, both looking quite loose on his body. He doesn't wear shoes or socks, preferring to be barefoot almost everywhere he goes.
L also walks with a hunch, showing that he may not spend too much time being physically active. His look is very low maintenance, likely due to how he spends most of his time thinking and deducting his latest case.
Misa Amane
As a popular Japanese idol, Misa tends to be seen in Gothic and Punk fashion, especially before the time skip. She tends to change her clothes a lot, but her most recognizable outfit is that of a black leather dress, black French lace arm sleeves and stockings, and knee-high platform boots. She also tends to wear a lot of cross-themed jewelry, as well as red lipstick and nail polish.
If you're a fan of the psychological intensity in Death Note, you might also enjoy the mind games and strategic battles in Steampunk cosplays. Or perhaps you're intrigued by the complexities of morality? In that case, consider diving into the world of Hisoka from "Hunter x Hunter" or the alluring Makima from "Chainsaw Man.