Steampunk Cosplay Costumes
Other

Take a look at our favorite Steampunk costumes and accessories below and plan your next retro-futuristic adventure!
Last update was on: September 23, 2023 8:10 pm
Best Steampunk Cosplay Costumes in 2022
Check out the best Steampunk looksDo you want to look like you came from the past, yet not look like a dinosaur who doesn't even know what germs are? If so, then the steampunk aesthetic may be what you're looking for.
Who is Steampunk?
Steampunk is a subgenre of science fiction that combines the Industrial Revolution with retro-futuristic technology. Think of computers and rayguns made from late 19th century technology. It's a combination of "Why?" and "Why not?" in the form of an anachronistic past that makes for a compelling aesthetic and narrative. Steampunk media is usually set in an alternate version of either the Victorian era or the American Wild West. Think of it like snake oil, but it actually works.
Movies like Treasure Planet, The Golden Compass, Lemony Snicket's A Series of Unfortunate Events, The League of Extraordinary Gentlemen, Abraham Lincoln: Vampire Hunter,and so on are some notable examples from Hollywood. But perhaps video games and anime have better captured the spirit of steampunk over the years. You only have to look at a game like BioShock or a series like Full Metal Alchemist to get a sense of that.
How to Look Like Steampunk
The tropes of the steampunk aesthetic include clockwork mechanisms, gauges and dials, propellers, and steam-powered machinery. Steampunk fashion makes use of suits, waistcoats, top hats, corsets, and long dresses. Lace, leather, and brass are commonly used. Accessories such as pocket watches, goggles, and brass or copper jewelry are also used prodigiously.
You may notice that steampunk fashion has a lot of brown. From all the leather, brass, and wooden accessories, it's understandable that you'd want clothes in colors that match them. Dark blue, dark red, light brown, white, or black should do the trick.

Steampunk Cosplay Variations
Unless you're cosplaying a character from steampunk media, doing steampunk cosplay is all about coming up with your own steampunk costume that you can call your own. This is best done when you're already immersed in steampunk media, and even understanding 18th and 19th century world history can enhance your understanding of the genre.
Take a look at the Top Steampunk Costumes & Accessories in 2023
Steampunk Suit
Aside from a shirt, pants, shoes, and maybe a jacket, you also want to have the appropriate headwear and eyewear to match. A shirt in the Victorian style is key, or at least in an appropriate color or formal style. To go with that, you can choose between a long trench coat, smoking jacket, tailcoat suit, or so on.
A comfortable pair of trousers may suffice, but you can also choose to be more radical with it by going with Victorian-style canvas trousers or even cowboy chaps. Adding buttons or leather straps and suspenders can also add more to the look.
You may also wear a vest, which can instantly add a more formal aesthetic to your outfit. Pinstripes are period-correct and can lend a degree of boldness to your look. Footwear usually consists of boots or dress shoes. Perhaps you can get away with leather loafers, but only if the pants and socks make it match.
With headwear, you can choose between a top hat or a bowler hat. To make it more steampunk, you can add fabric that matches the rest of your outfit, as well as gears and chains. But what can instantly make it steampunk are brass-rimmed goggles strapped to it.
You can also just wear them over your eyes. If you don't like goggles, you can wear spectacles, monocles, even sunglasses that are designed in the steampunk style, with leather patches and straps included.
As for accessories, nothing beats a gold or bronze pocket watch to add even more steampunk vibe. Cogs, gears, wheels, and rustic plates can be worn anywhere visible. Having a well-kept beard can also add to it and make you look more dignified.
Steampunk Dress
You can Victorian-ize almost any outfit by wearing a corset, especially if it's decorated with lace or intricate embroidery. In fact, you may want to be prodigious with the lace, so have it wherever you can, like your gloves, blouse, skirt, stockings, and so on.
Bustle skirts can also work as they accentuate the hips and add texture to your overall look, especially if you're going for a more Wild West-themed look.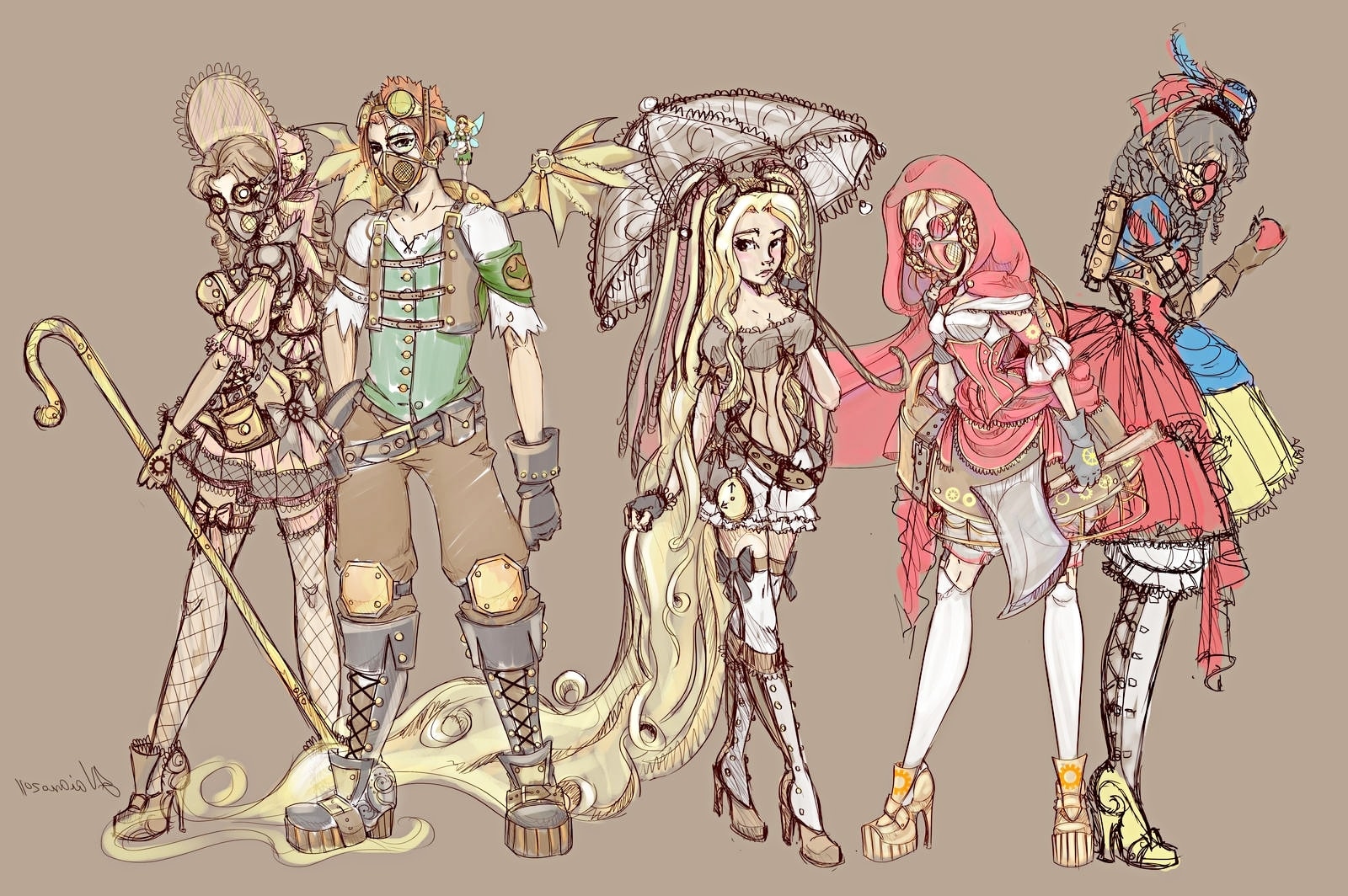 If the gears and cogs of Steampunk have caught your fancy, you might find the intricate costumes of Elf characters equally captivating. For those seeking to blend modern tech with historical aesthetics, an Ibuki Mioda cosplay offers a musical twist.